Questions you should be asking to guide your industrial digital transformation journey
Prepare for tomorrow by asking the right questions today.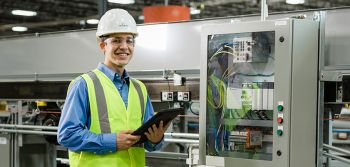 The first step in preparing for the future is understanding the challenges your business faces today. That's why as we talk about industrial transformation or technology investments, we work to understand your business.
Then, we dive deeper, to understand how infrastructure, workflow and technology impact your ability to meet your goals. Based on your needs, we provide key assessments addressing operational efficiencies, current automation architecture and the critical network infrastructure that connects them. With our findings, you can confidently identify and prioritize areas where improvements can be made to prepare your business for the future.
What is the most critical step in your process to your profitability?
What are your goals?
What are your most important KPI's?
How do you measure success?
What challenges impact your goals?
Van Meter - Digital Transformation Brochure (PDF)
---
Operational Assessment
Is your work flow efficient from start to finish?
Between managing a workforce shortage, competing with businesses around the world and ever-changing customer demands, it's more important than ever to be nimble and manufacture products quickly, accurately and profitably. That requires reviewing every system, process and person in the plant.
During the operational assessment we'll evaluate your process from order-in to order-out.
Can automation be utilized to move people to higher-value roles?
What workarounds have you developed that are covering inefficiencies?
How are they received?
How are they scheduled?
Do you have the resources to produce them?
What challenges do you have?
Doyou have supplier quality problems?
Do you have issues with inventory control?
Is your most critical manufacturing step optmized?
Is there unplanned downtime
Do you meet daily production goals?
Are you producing quality finished goods on-time and profitably?
We'll work with you throughout the assessment to help you identify areas of improvement and recommend possible strategies to improve productivity and, ultimately — profitability.
---
Automation Architecture Assessment
Are you confident in the technology you have in place?
When you're busy operating a plant, you don't have time to think about one piece of equipment, or if there is a spare part for it. But tomorrow that device could cost you valuable downtime.
AN INSTALLED BASE EVALUATION (IBE) FROM VAN METER IS AN IN-PERSON PANEL-BY-PANEL AUDIT THAT CATALOGS WHERE YOUR INDUSTRIAL EQUIPMENT IS LOCATED, IDENTIFIES YOUR HIGHEST DOWNTIME RISKS AND PINPOINTS WHICH DEVICES MAY BE OBSOLETE. DURING THE EVALUATION, WE'LL:
Develop a comprehensive inventory of current, outdated and obsolete parts and equipment
Catalog the location of all equipment and spare parts
Determine where to find additional equipment if a machine goes down
Assess the life cycle of equipment and devices to determine if they are obsolete
Reveal excess and unnecessary parts that can't be used on current equipment
Once the evaluation is complete, we'll offer strategies to help you plan ahead to manage storerooms and spare parts efficiently, avoid downtime due to equipment obsolescence, and determine where and when equipment migrations should begin.
---
Information Infrastructure Assessment
Is your current network reliable?
Whether at the machine, line or plant level, a stable, secure and robust network is essential to stay competitive both now and in the future. Plant networks are now considered as critical as other utilities such as electricity, gas, steam, and water due to the impact they have on production capabilities when they fail. An Information Infrastructure Assessment with Van Meter can help you uncover vulnerabilities and potential weak points before they impact your bottom line.
DURING OUR COMPREHENSIVE NETWORK ASSESSMENT, WE'LL:
Assess the conditions and status of hardware and equipment
Take inventory of components
Make recommendations for improving network performance
Provide strategies to identify and reduce single points of failure within the network
Make recommendations about how your network can support new technology in the future
Examine the network environment to pinpoint potential problems
Did you know nearly 90% of plant failures and downtime happen as a result of network issues?
Our report will provide you with recommended refreshes, network designs and more, so you'll be able determine the best way to invest in order to maximize return and mitigate risks.
---
Why Van Meter?
Van Meter is a Rockwell Automation Authorized Distributor, and our team of experts is factory-trained having earned numerous industry certifications. Plus, our long-standing relationships with manufacturers means we can leverage their expertise with ours to bring decades of experience and knowledge to your plant.
Our partnerships with solutions providers also enable us to connect you to the right resources when it's time to implement our recommendations. And, along your digital transformation journey, Van Meter can provide services like calibrations and remote monitoring to ensure that everything continues to run correctly.
Want to be better prepared for the future? Reach out to us today.
Whether you'd like to learn more about one, two or all three assessments, we're here to help.