Use Cobots to Boost Palletizing and Assembly Efficiency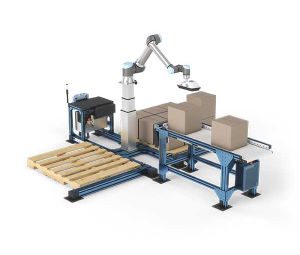 Dull, dirty, and dangerous jobs: These types of tasks – like palletizing and assembly – can be unsanitary, hazardous, a little tedious, and tough to keep filled (and there are plenty of them on the plant floor).
But this type of work also offers a unique opportunity: It serves as a simple and practical starting point for automation. Removing people from lower-interaction, high-repetition, and potentially unsafe tasks can make big labor and financial impacts almost immediately.
Consider an employee dedicated to assembling parts or placing, stacking, or moving goods on a pallet for shipment: These tasks can involve heavy lifting, repetitive twisting, or bending and reaching. The opportunity for human injury is definitely present. Errors may also increase as employees get distracted (and a little bored!).
Get Started with a Free Cobot System Assessment
Fill out the form below and a member of our automation team will be in touch soon.
---
Collaborative robots (also called "cobots") can make palletizing and assembly work safer and more efficient. You can avoid repetitive stress injuries and free up valuable workers to focus on projects that call for more variety, interaction, and critical thinking. In many cases, cobots help increase palletizing and assembly output without boosting staff numbers.
How Cobots and Robots Differ
Many people hear "cobots" and picture traditional robots … but there are some important differences.
As opposed to traditional robots, cobots are very easy to program. Instead of week-long training sessions to learn robot setup and management, you can be ready to program a cobot to help with palletizing or assembly in about 30 minutes; they're also simple to troubleshoot and feature built-in safety measures that make it possible to work side by side with the technology.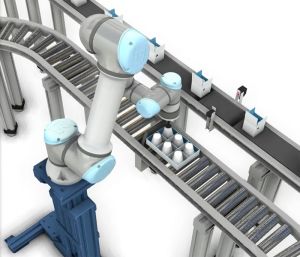 With a small footprint and several end-of-arm tooling options to choose from based on your task (screwdrivers, grippers, magnets, vacuum cups, etc.), cobots are incredibly versatile. Instead of being designed to perform one specific task in a fixed location – such as welding – cobots can be reconfigured within minutes. One day they may be case packing or palletizing products on an assembly line; the next day they can be set up to dispense a sealant in an assembly process.
Last – but certainly not least – cobots offer a fast return on investment. For example: If you're running three shifts (24/7 operation), 100% ROI can be achieved in well under a year. After that, every minute and dollar saved puts time back on the clock and money back in your bank account.
Will Cobots Work for Me?
Would cobots help automate palletizing and assembly work in your plant environment? They're likely a good fit if you experience any of these challenges:
High rates of repetitive stress injuries
Difficulty hiring or retaining employees to fill palletizing and assembly roles
The inability to move staff to higher-functioning positions
Difficulty filling palletizing and assembly gaps that occur when employees are out sick or on vacation
Completing tasks measured solely on efficiency and output
Higher-than-normal rates of error or delayed delivery/production times
Where Do I Start?
Together, Van Meter's team of specialists has decades of automation experience. We can walk you through our process to determine whether cobots might work for your palletizing and assembly projects:
Discuss potential applications within your plant (if cobots aren't the right fit, we can guide you toward other options)
Conduct a risk assessment to assess the environment and cobot system, making sure safe, collaborative operation is possible
Guide choices when it comes to end-of-arm tooling, accessories, apps and software to improve functionality
Suggest options for connecting cobots to plant-wide control systems (if you choose to do so)
As we've deployed successful automation solutions for plants of all types and sizes, we've learned lots of lessons along the way. We're ready to answer any questions you have.
Van Meter also partners with experts in cobot and automation technology, such as Universal Robots. Their solutions are designed to help you streamline tasks like material handling, packaging and palletizing, picking, labeling, and kitting.
ARTICLE BY:
RYAN RICE
EMPLOYEE-OWNER, AUTOMATION ROBOTICS PRODUCT MANAER
Rice joined Van Meter in 2013 and has more than 26 years of automation experience.