Take the Monotony Out of Repetitive Manual Welding with a Robotic Welding Solution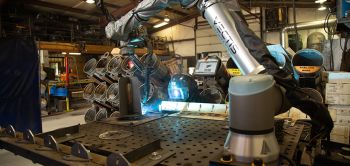 Hiring a qualified welder for your manufacturing operation can be challenging. So why would you put that valuable skillset you hired on a monotonous task? Automating these projects might be the best way to address the skilled labor shortage and free up talent for more valuable work.
The fact is, more and more fabrication facilities are looking to address this skilled labor shortage with technology. Specifically, they are relying on collaborative robots to take the dull, dirty and dangerous out of many welding applications while at the same time witnessing improvements in quality and productivity.
Video: Universal Robot Welding - Mobile Automation
Collaborative robots, or cobots, are a great choice for many welding applications because cobots can:
Be deployed with minimal training | Using the intuitive interface, welding tasks can be taught quickly with very little training
Deliver greater throughput | Consistent and efficient performance means getting jobs completed in less time
Achieve production consistency | Pre-programmed motions and tasks result in reliable product consistency
Reduce post-weld cleanup | Storing precise, repetitive weld settings reduce welding spatter decreasing cleaning post-weld
Reduced cost of goods | Fewer errors reduces material waste allowing you to produce product at a lower cost
Reduce worker stress | The fatigue caused by the repetitive nature of even short production weldments is eliminated
Van Meter has teamed up with cobot market leader Universal Robots and Vectis Automation to offer a world-class welding solution to compliment manual and large robot installations. See their weld examples and recently released case study highlighting MT Solar's collaborative welding installation.
Think welding is too nasty of a task for cobots? Check out this Aircraft Tooling Inc. case study with a thermal spray HVOF application – an even nastier task than MIG arc welding. They utilized a Universal Robot UR10 collaborative robot and after three years popped open the seal covers and there no apparent damage to the bearings.
Curious how a Universal Robot can help your welding processes and benefit your business? Contact Van Meter, your authorized Universal Robot distributor, today to schedule your consultation at 1-800-247-1410.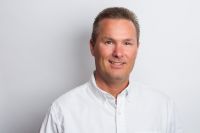 ARTICLE BY:
KIRT HANSEN
EMPLOYEE-OWNER, AUTOMATION ROBOTICS PRODUCT MANAGER
Hansen joined Van Meter in 2006 and has more than 32 years of automation experience.