The Retrofit Lighting Opportunity
The market for putting new lights in old spaces spells opportunity for contractors who understand and embrace its changing dynamics.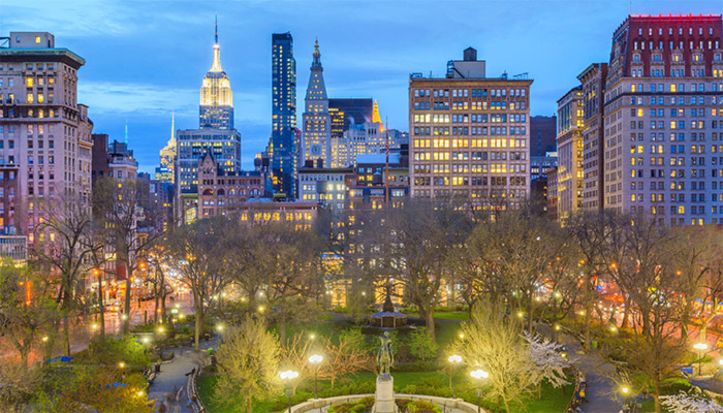 The lighting market is among the brightest sectors in an electrical industry that's growing steadily overall, and thanks for that can go to the humble light-emitting diode (LED). Most of the attention around the lighting market is focused on new buildings where architects and lighting designers are pushing the boundaries of what the latest LED technology and intelligent controls can do.
Meanwhile, look around you at the buildings that make up your city, and you'll quickly see that all those offices, shops, conference rooms, lobbies, factories, warehouses, and parking garages where people spend their days beneath older fluorescent, incandescent, and high-intensity discharge (HID) lighting could benefit from the same technologies that are going into new buildings. The trick is getting them in there.
The arguments in favor of retrofit lighting systems are compelling and in a sense overdetermined: There are so many reasons for customers to replace their lighting systems now that even if market conditions changed and some of the incentives went away, there still would be plenty of benefits to drive demand.
For electrical contractors and the rest of the lighting industry, there is an added urgency: Due to advances in product life brought by the industrywide transition to solid-state lighting, most of the systems being installed now won't need to be replaced for a very long time. That means contractors need to get in on this work now because it may not happen again in our lifetimes.
The benefits to be gained from a lighting conversion are considerable, forming a solid foundation of opportunities for contractors to present to customers. In recent years, each of these benefits has seen some significant evolution.
Energy savings have deepened. Lighting retrofits have been primarily an energy-efficiency story since the days of changing out T12 fluorescent lighting for T8s and magnetic ballasts for electronic ballasts. Today, the combined energy-saving potential of evermore efficient luminaires with better control, including daylight sensors, occupancy sensors, dimmers, and more elaborate programmable scenarios, put lighting retrofits in line with the most effective and quickest-return efficiency investment your customers can make.
In a recent report by the American Council for an Energy-Efficient Economy (ACEEE), researchers comparing the return on investment from residential energy-efficiency upgrades found that energy efficiency was a better investment than putting that money into long-term stocks. An LED lighting conversion was included as part of its most basic energy-efficiency investment scenario, which reduced energy consumption by 10% and delivered the best return for homeowners at 18.5% return annually. The report concluded that even homeowners on a tight budget can capture considerable savings by making some simple upgrades to lighting and other systems. (The report's other scenarios made deeper cuts to energy use but due to higher costs also took longer to pay back.)
More than 72% of U.S. buildings were built before 2000, and "operating and upgrading older buildings is becoming a primary challenge for property and maintenance managers," a Grainger study revealed (Sean Pavone/iStock/Getty Images Plus).
Natural payback has accelerated. Although LED lighting systems were initially seen as very expensive, the influx of global competitors from the electronics and semiconductor industries, along with improvements in production efficiencies, have brought prices down. The price declines have leveled out over the past couple of years, due in part to continuing uncertainties over ever-changing tariffs and threats of tariffs. But compared with just a few years prior, the cost of LED lighting has plunged, and the quality of what customers get for that money has substantially improved. The reduced pricing has accelerated the straight payback from energy savings so that even without rebate incentives from utilities, it's a compelling investment.
Utilities are refocusing their rebate incentives. Although pricing has come down and payback has sped up, utilities still see plenty of reason to help customers with the up-front costs of switching to LED lighting as part of their programs to reduce demand peaks.
According to BriteSwitch, a firm that tracks lighting rebates and assists distributors and contractors with rebate claims, 73% of U.S. counties are covered by an active commercial lighting rebate program.
Knowing the local rebates available and how to help customers claim them has become critical for contractors in the lighting retrofit market. If the local utility uses "midstream" rebates, where the incentive is provided to the distributor, partnering with a distributor experienced in handling these claims can make life easier on your customers.
Quality of light has improved. Beyond just freshening up an old space, advances in color rendering, tunable white lighting, and the introduction of luminaires that are programmable for different voltages, color temperatures, beam spread, and various other parameters are pushing LED technology to qualities of lighting that were unattainable with legacy technologies.
Research and development in areas such as human-centric lighting designed to influence occupants' comfort, alertness, and productivity — and to respond to their individual needs — promise to further position modern lighting systems as enhancements to the functioning of work spaces and living spaces beyond simply providing light to see by.
Controls are changing the game. Connected lighting may be the most significant recent advancement, giving customers capabilities they have never had before. Tuning color, daylight response, or even just programmed dimming schemes make the lighting more responsive while boosting the energy savings of an already efficient technology.
The emergence of wireless lighting control has changed the game for retrofits, removing some of the headaches, cost, and locked-in feeling of hard-wired proprietary systems while giving the end-user huge gains in flexible use of their lighting systems.
The growing trend of outfitting luminaires with on-board sensors and the prospects presented by Power-over-Ethernet (PoE) to make the lighting system part of a building's Internet of Things (IoT) backbone provide an abundance of new ways for the system to pay for itself.
Need for Expertise
With so many potential benefits driving interest in lighting retrofits, customers look to electrical contractors for expertise on how to get the best lighting for their needs at the best return on their investment.
As luminaire technology continues to advance, many lighting manufacturers have been developing lines aimed at the contractor retrofit market with streamlined offerings of standard lighting equipment built for easy installation and simple field modifications to reduce the contractor's labor and materials costs.
Controls, on the other hand, continue to be a challenge in terms of developing expertise. Despite ongoing efforts at promoting interoperability and standardization, the process of setting up, configuring, and commissioning lighting control systems varies considerably from one manufacturer to another.
Because contractors make their money by mastering the nuances of installing and configuring a system and finding ways to do it more efficiently — and because the customer's satisfaction with a new lighting system will depend heavily on how well it is set up — the need for both standardization and training is significant.
Contractor training in lighting controls has become more widely available in the past three years, with the development of certification programs such as the National Advanced Lighting Controls Training Program (NALCTP), based on earlier programs for the California market developed by organizations including the National Electrical Contractors Association (NECA), the International Brotherhood of Electrical Workers (IBEW), the Lighting Controls Association (LCA), and several utilities. Further training is available from manufacturers, lighting reps, distributors, and associations such as the International Association of Lighting Management Companies (NALMCO).
Contractors also need deep expertise in vetting the glut of new lighting manufacturers and helping customers select products that will perform as intended throughout their service life.
More Change Ahead
With the advances in wireless controls and the declining cost of LED lighting systems generally, some contractors are seeing opportunity everywhere they look. Given the scope of this opportunity, it seems likely to continue for many years. But once modern lighting systems are installed in most existing buildings, the conversation is almost certain to change again.
Once a building is outfitted with solid-state lighting, the marginal gains in efficiency from retrofitting with even more efficient technology won't match that of changing from incandescent or fluorescent to LED. Given the longer useful life of LED lighting, it will be many years before most buildings need another upgrade. These factors, combined with the advance of future-ready configurable systems, make it clear the competitive landscape in lighting will look very different once this fun is done.
---