Wire & Cable Services
Van Meter can possibly decrease your installation time up to 50 percent or more with its wire and cable services by:
Optimizing stacking parallel solutions to cut the number of reels needed in half
Taking three-day wire pulls down to one-day pulls – putting money back into your pocket
Single and parallel cuts with custom labeling and bundling that can save hundreds of man-hours on wire and cabling projects
Guaranteeing quicker and more accurate cuts within 99.99 percent accuracy
And that's just the beginning.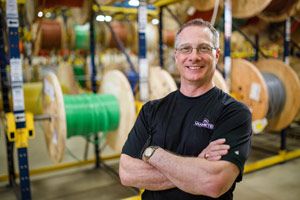 Our shelves are always stocked to ensure same-day or next-day delivery. If we don't have what you're looking for, we'll custom order it. We also offer wire and cable solutions that pull easier, strip easier, reduce burn-through, and are tear-resistant.
In a matter of hours, we can provide pre-installed pulling heads to improve safety and save you time. We'll also let you purchase wire in advance; we'll cut it and then store it until you're ready to use it.
Turn to Van Meter for these wire and cable services:
Circuit management and optimization, including speed pulls, custom labeling, CoilPAKs, and wire barrels
Feeder management, including single cuts, compartment reels, parallel reels, stacked reels, pulling heads, and rip-chips
After you've had a chance to work with Van Meter's wire and cable services, our contractor specialists make jobsite visits to provide training and offer helpful hints and support on maximizing productivity.
To test these wire and cable service offerings, request a tour of Van Meter's demo center. The best way to see how they work is to view them in action.
Everything You Need to Succeed
Talk to an employee-owner about how we can make a positively powerful impact on your business.