Building Intelligence & Networks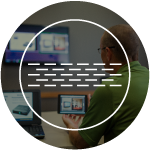 CABLING
SECURITY & ACCESS CONTROL
TOOLS & TEST EQUIPMENT
CABLING
Your system integration projects are nothing without the right cabling infrastructure to get the right data to the right places. There are several structured cabling options available in the systems integration industry; we'll use our years of technology and systems integration experience to help you determine what you need to enable system performance and futureproof your infrastructure so additional technology can be added to it in the future.
SECURITY & ACCESS CONTROL
We'll help you find technology solutions that control who enters and exits a building, monitor activities in a particular area, or communicate messages during a disaster situation – and we'll do it to match any budget, timeline, or security need. We can also help you understand how security and access control systems can be integrated with other building systems, such as lighting and HVAC, for improved automation, energy efficiency, and tracking.
TOOLS & TEST EQUIPMENT
Make sure you've got the right tools for your systems integration projects, as well as the appropriate testing equipment to assess the systems you're working with. Contact us to find out more about the tools and test equipment that can improve system integration projects.
Van Meter is a one-stop shop. This company empowers its employees to engage any resources they need to make decisions and develop new methodologies to get the job done right — on time and on budget.
— BRIAN R. Project Manager — Miller Electric
Van Meter has been our valued and trusted partner for Allen Bradley and other control products for the past twenty years. They have always been willing and able to provide us with expertise, value, and above all, friendly service. We consider Van Meter to be our greatest supplier asset to enable our continued success.
— MEL S. President — Services Unlimited, Inc.
Mistakes will (eventually) happen. Van Meter's people respond quickly to fix issues effectively.
— JOHN M. Vice President — Ramsey Communications
Customized Solutions
Product Modification & Assembly Services
COMBINATION MOTOR STARTER ASSEMBLY SERVICES
CUSTOM WIRE & CABLE SERVICES
ENCLOSURE MODIFICATION & ASSEMBLY SERVICES
KITTING & LOGISTICS
Everything You Need to Succeed
No matter your question, big or small, we've got full-time, in-house, trained experts
who are on standby to provide everything you need to succeed.