Call it low-voltage electronics, datacomm, data communications, or IP (internet protocol): the technology powering your network, and everything on it, changes constantly. From basic network construction and components, videoconferencing systems to 4K interactive digital signage – or any technology you can imagine – Van Meter can turn your technology dreams into reality.
Datacomm Products
Networks now support a variety of datacomm solutions and technology. Whatever you want to use your network for, we can make it happen.
Whether you're a corporation that wants to learn more about using technology to improve communication, a school that wants to improve security, or a contractor who wants to expand your portfolio of datacomm offerings to customers, we'll help you find the right technology. Despite the different data communications terms being used in the industry, from "low voltage" to "power over Ethernet," Van Meter specialists can explain what it all means – and how to use it.
Cable and Connectivity
Without proper cable design and infrastructure, the powerful technology becoming so prevalent today couldn't perform. Serving as the nervous system of every technology project, the backbone of the network starts here. Although you can't see cable and connectivity once the job is complete, you'd definitely know if it were missing.
To support state-of-the-art technology and network capabilities, Van Meter datacomm solutions range from standard audio visual (AV) connectivity to structured cabling to support the most technology-intensive applications.
Our copper and fiber-optic solutions help:
Support technology-intensive systems and applications
Simplify troubleshooting by making technology problems easier to isolate and fix
Replace multiple wired systems with one unified structure that carries any type of data
Manage bandwidth-intensive applications like IP-based AV and security
Audio Visual (AV)
From speakers, projectors, and paging systems to digital signage, ultra high-definition (HD) screens, and videoconferencing systems, HD digital video and audio are becoming standard in today's AV projects to support increased communication and collaboration.
These advanced network devices can be integrated onto existing or new networks. Even if you're not sure which AV systems are right for you, we can help design a configurable technology solution that leads to better communication and interoperability, making limited resources go further.
Van Meter's AV solutions help with:
Real-time communication
Distributing dynamic content and messages quickly
Managing information in multiple formats
Sharing and managing video and image-rich content
Security
In many cases, security isn't a choice – it's a requirement. Surveillance cameras, access control, intercoms, parking control, biometrics, and video management, all play a part in making a commercial, institutional, or industrial site as safe as possible.
Whether the end goal is to control who enters and exits a building, to monitor activities in a particular area, or to communicate during an emergency, there's a technology solution to match your budget, timeline, and security needs. From single buildings to multi-facility campuses, Van Meter has the security and datacomm products to protect people, property, and information.
Investing in security solutions can assist in:
Granting after-hours access
Managing doors and locations
Protecting people, property, and information
Controlling and restrict access
Allowing localized and remote security management
Communicating business and safety critical information
Advertising and becoming a potential revenue source
Racks, Cabinets, and Pathway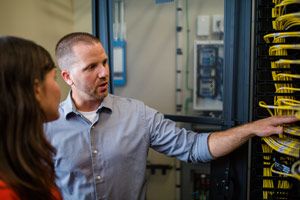 Cable management solutions bring power, data communications, and AV through the floor, overhead, under the floor, or to workspaces in open areas.
Fast, organized installation of IT, datacomm, and networking equipment can improve connectivity, provide options for bandwidth scalability, improve information security, and advance data center design. Racks (which hold various hardware devices), cabinets (which enclose and secure racks), and pathway (which allows placement of cables between racks and cabinets) work together for successful cable management.
Our cable management solutions can:
Reduce liability associated with trip hazards
Make routine maintenance or network equipment replacement easier
Extend the life of your cables
Reduce signal interference and crosstalk issues
Protect cable from sharp edges and movement
Improve airflow and cooling to maximize performance