Van Meter electrical supply helps you select and design industrial automation solutions, and creates open-architecture, connected enterprises. Our automation technology specialists are focused on 12 areas of industrial automation. We have the application and programming experience to shorten your project lifecycles to help you get more done in less time. Van Meter can also connect you with other industrial automation resources, such as systems integrators, for additional services that put several experts at your fingertips.
Automation Support Center
As part of Van Meter's Automation Support Center, dedicated industrial automation experts start by testing and evaluating your specific situation. Then they engineer and customize an automation technology solution to integrate systems and components that meet your goals of:
Staying competitive
Streamlining processes
Ensuring quality
Making staff more efficient
Saving time and money
Ensuring safety
Motion
Motion solutions use gears, belts, and shafts to move an object. Their components often involve a controller (the "brains" of the operation), a motor (the "muscle" of the operation), and an actuator (the "hand" causing movement). A motion solution may also include a feedback device (acting as "eyes") to monitor, control, and verify position and movement.
In printing, packaging, and assembly industries, industrial automation motion solutions improve processes and streamline machine function.
Motion solutions help with:
Reducing changeover and making automatic adjustments to machines
Increasing quality control to improve throughput and consistency
Eliminating hazards by leaving unsafe tasks to mechanical components
Increasing speed, decreasing reaction time, and reducing overall costs
Auto Identification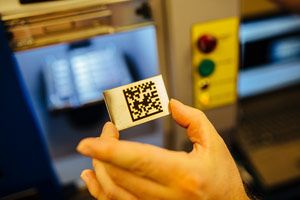 To track and trace products, auto identification (auto ID) uses barcodes, RFID (radio frequency identification), print-and-apply labels, lasers, or ink jets to serve as identification labels.
These labels can pinpoint when and where a product was produced, its location within the warehouse, quantity remaining, ingredients used, and product quality.
Auto identification solutions help with:
Improving quality by catching production line errors
Enhancing industrial automation accuracy
Eliminating defects by verifying assembly and production
Tracking product/equipment location in real-time
Controllers and I/O
By monitoring device and equipment status, controllers and I/O devices make decisions, take action, and alter operating conditions based on pre-determined programs and settings. You decide what you want your equipment to do, and controllers and I/O devices make it happen based on data they receive.
Acting as small, purpose-built computers with input and output capability, these automation technology solutions control devices by "reading" pressure, flow, speed, and temperature levels, and then acting accordingly.
Industrial automation controllers and I/O devices help with:
Better control and recording of events
Faster troubleshooting when an issue arises
Equipment footprint reduction to save space
Streamlined processes by controlling multiple devices at once
Motor Control Centers (MCCs)
Instead of operating under multiple separate panels, a motor control center brings separate devices like motor starters, Variable Frequency Drives (VFDs), and soft starters together under one common bus structure for devices to plug in to.
Motor Control Centers (MCCs) help with:
Reducing plant downtime
Improving installation
Decreasing industrial automation footprints
Increasing safety
Pneumatics
As a reliable, flexible, low-cost solution, pneumatics use pressurized gas for power transmission and motion. In fact, a pneumatic motor is 1/100th the cost of an electric motor. The lifecycle of a pneumatic motor is also much longer, with 20 million cycles as compared to an electrical motor that offers only 10,000 to 20,000 cycles.
Pneumatics help with:
Reducing risk by working in hazardous and classified areas
Cutting industrial automation maintenance time and costs by eliminating programming
Preventing downtime with a resistance to shock damage
Industrial Controls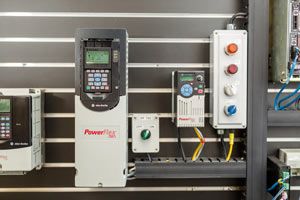 As your motor's "circulatory system," industrial automation control solutions turn electrical power into controls that run electrical motors according to NEC requirements. They include:
Our knowledgeable specialists have decades of experience – not to mention training from Allen Bradley's Industrial Controls School – to help you select, support, and find the best automation technology.
Industrial controls help with:
Reducing downtime with avoidance of electronic overloads and slow time-to-trip
Gaining motor circuit diagnostics
Ensuring reliable power supply and achieving high mean time to failure (MTTF)
Maintaining dependability by ensuring no hang-up between positions
Sensing & Safety
Proper safety equipment can dramatically reduce workplace accidents and injuries. When you invest in industrial safety solutions, you're also reducing insurance premiums, employee absence, and potential fines.
From emergency stop push-buttons that quickly stop a dangerous movement, to safety interlock switches that shut down a machine when a guard isn't open, safety products address legal compliance, user comfort, and product durability.
Sensing components also play a part in safe workplaces, working with control systems to detect, measure, analyze, and process production site changes as they happen.
Sensing and safety solutions help with:
Predicting and preventing potential failures or maintenance issues
Increasing production
Decreasing downtime
Networks & Communications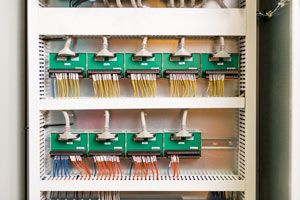 Your network allows for a safe, fast exchange of data among devices.
From routers and cabling to connectors and switches, Van Meter has what you need to establish a reliable network. Connectivity is at the heart of every business, whether it's a plant floor or an office.
When your network runs smoothly, you can take advantage of real-time data and information to make better decisions and catch problems early.
Networking and connectivity solutions help with:
Making fast, educated decisions
Reducing errors
Sharing data more efficiently
Drives
When you have an application that requires electric motor control, the use of drives in your automation technology can help regulate speed, power, and torque to allow your plant to perform safely and more efficiently.
Drive solutions help with:
Increasing energy efficiency by reducing energy output
Improving reliability and reducing wear and tear
Enhancing quality and performance accuracy
Verifying safety
Accelerating product throughput
Visualization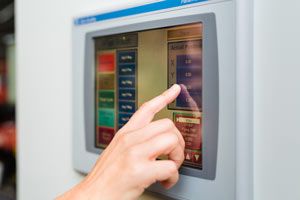 By collecting and displaying building-wide data on one common platform, a visualization solution offers valuable insight into industrial automation and business operations.
Instead of searching for information in several different places, a visualization solution serves as an HMI (human machine interface); you can pull all data sources together to see the entire picture clearly. Monitor, control, maintain, adjust, and report on what a machine is doing instantly – all in one location.
Visualization solutions help with:
Gaining control of business operations
Planning for turnover
Improving operations
Prioritizing maintenance