Need electrical supplies? Van Meter has direct access to hundreds of major electrical supply manufacturers; we also keep a massive inventory across our 24 branches to get you the products you need whenever they're needed – as quickly as possible.
Electrical Supply Solutions
We can help with so much more when it comes to electrical supplies. We'll provide the best possible product solution, and our service will set us apart. Don't know exactly what you need, or can't decide for sure? Our electrical supply experts will help. Know what electrical products you need, but can't find them? We'll track them down, and then consider stocking those electrical supply items in our own inventory (if you need it, other customers may need them, too).
From the electricity pole to finished goods, we provide quick responses, resourceful product selection, fast order entry, quick turnaround, helpful project management services, and on-time delivery or preparation for pick-up.
Distribution Equipment
We'll help take your power distribution project from concept to completion (and check in with you after it's finished). Van Meter electrical supply offers a large selection of in-stock distribution equipment, such as panel boards, transformers, switchgear, and circuit breakers.
Tools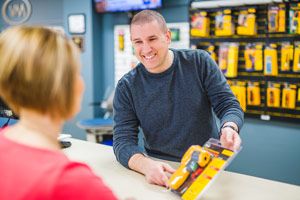 Keep electrical equipment running like the day it was installed by making sure you've got tools to install, repair, monitor, gauge, and troubleshoot electrical equipment and systems.
From multimeters and hand tools to pulling equipment, benders, and cutting equipment, we've got your electrical tool needs covered.
Explain to our experts what you need to do, and they'll arm you with the supplies you need to get the job done. They'll show you the most efficient ways to use your tools to achieve better, faster, more accurate installation and repair.
Wiring Devices
Whether a commercial, industrial, institutional, or residential project is in your future, Van Meter electrical supply has wiring devices to provide power and data. Tamper- resistant, GFCI (ground-fault circuit interrupter) protection, corrosion-resistant, heavy-duty, and watertight solutions are all available, along with new technology like USB (Universal Serial Bus) charging solutions.
Plugs, receptacles, wall plates, switches, cord ends, and other wiring devices can be found in-stock at Van Meter at any time; we carry products that ensure productivity, reliability, and safety.
Enclosures
To protect electrical or electronic equipment from environmental conditions, Van Meter offers a variety of enclosures (cabinets).
Enclosures also protect building tenants and occupants from potential hazards. Depending on your application, you may need to follow specific regulations when selecting the proper enclosure. We'll help you find a compliant enclosure, as well as one that can handle heat dissipation and protect against condensation, RF (radio frequency) interference, and electrostatic discharge. We offer metal, plastic, and fiberglass options.
Wiring Accessories
Water, dirt, and dust interfere with electrical equipment performance, but we offer fittings and boxes that ensure a safe, protected connection to a device. These solutions are designed to handle any weather situation, as well as function in hazardous or high-traffic locations, while still offering access to power supplies when needed.
We'll help you find whatever size and material you need, whether it's metal, synthetic, or plastic; our experts can also select fittings and boxes to reduce your installation time.
Fittings and Boxes
We carry a wide variety of wiring accessories, from grommets and electrical tape to antenna adapters and cable ties. You tell us what problem you need to solve, and we'll get you the wiring accessories to make it happen.
If your electrical supply need isn't listed above, don't worry: Van Meter likely has it. Contact us to find out.