Investing in solar energy products provides benefits that go beyond saving energy, money, and the environment. Green power and energy conservation are no longer the wave of the future – they're here now (and here to stay).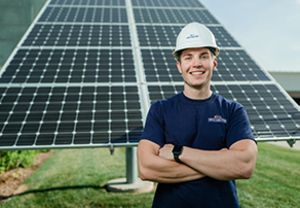 Even at current energy prices, solar photovoltaics and renewable energy products can yield high rates of return. As utility rates increase, the financial benefits of solar become comparable to the environmental advantages. As a renewable energy source, solar energy can replace fossil fuel – and it's completely free.
Not only can Van Meter design a renewable energy system to help you offset energy costs, but we can tell you first-hand how it's working for us. We've installed solar at six of our Iowa electrical supply locations, and we're experiencing remarkable results (including a 96 percent reduction in energy bills in some locations). We have more solar panels on the ground and in our warehouse than any other distributors in Iowa combined, so we offer same-day or next-day delivery instead of making you wait for weeks.
If renewable energy solutions are in your organization's future, count on Van Meter to:
Answer your solar questions
Help you find the best system and set-up
Investigate possible renewable energy rebates and federal/state tax incentives
Show you how to start tracking energy savings
Calculate possible payback so you know what to expect as a return on investment
We also offer photovoltaic training for electricians, builders, engineers, and trade professionals who are interested in solar installation.