Van Meter to Host 'TRANSFORM' Webinar Series
Industry leaders to share insights on modern manufacturing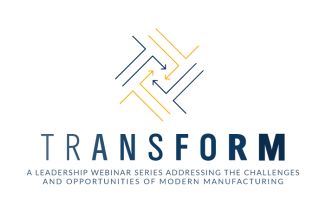 Van Meter Inc. announced it will host TRANSFORM, a complimentary webinar series for leaders addressing the challenges and opportunities of modern manufacturing, September 3 – November 12. Each week during a 60-90 minute-session, industry leaders will share best practices and insights on how to leverage people, processes, and technology to transform industrial operations for the future.
TRANSFORM Event Schedule and Registration
"We're bringing together some of the most forward-thinking people in manufacturing," said Jeff Spadaro, Vice President of Automation at Van Meter. "It's time to start a serious dialogue about the changes happening in the industrial space and what area companies can do to leverage the changes."
The TRANSFORM speaker lineup kicks off with Bob Murphy, Vice President of Connected Enterprise Consulting at Rockwell Automation, and includes other digital transformation change agents like Doug Kramer from Kosei St. Mary's Corporation, Stan Askren, retired Chairman and CEO of HNI Corporation, Chris Brogli of ROSS Controls, and more.
TRANSFORM registrants can customize their learning opportunity by picking and choosing from 11 unique sessions. The session topics include everything from the importance of adopting smart manufacturing technologies, and how to implement and leverage data to enhance operations, -- to automation strategies for tackling workforce challenges, and things to consider when developing a holistic safety program.
"Digitally transforming an industrial operation can be a daunting task. It takes time, investment and vision," concludes Spadaro. "With TRANSFORM, we're creating a forum where manufacturing leaders—regardless of where they're at in their transformation journey—can connect with and learn from their peers who have successfully progressed along their journey."
To learn more about the TRANSFORM sessions and to register, visit vanmeterinc.com/transform.