5 New Time-Saving Website Features You Should Know About
Our new online platform lets you create a personalized account to manage all aspects of your relationship with Van Meter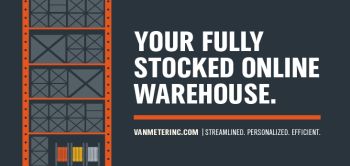 Have you heard the news?! Van Meter's new website is live and ready for you!
From effortless online ordering to quote requests and speedy returns, the way you do business with us online will now be faster and simpler. If you haven't explored all the new features available to you yet, be sure to check them out!
Let's take a closer look at five of our favorite new features. These tools will help you save time and money, so you can make the most of your day. Many of these ideas were inspired by your feedback…
1. Personalized Account Dashboard
With 24/7 access to a customized dashboard, you can manage all aspects of your relationship with Van Meter. Providing the ultimate in self-service, this dashboard is the best place to start if you want to:
Search or filter your online and offline order history
View and track quotes and open orders
Quickly create lists of commonly purchased products and place re-orders
View, download, or print current and previous invoices
Manage multiple payment options and track your spending
Check credit limits, balances, and monthly statements
Manage shipping addresses
2. Request a Quote
Avoid interruptions to your project planning by easily requesting quotes online. Once your Van Meter sales representative creates your quote, you are notified, and the quote will appear in the My Quotes section of your account dashboard for your review.
3. Quick-Order Option
Offering you a fast, new way to order, the Quick Order page lets you search for, view, and add products to your cart – all in one place. If you know exactly what you need, you can also upload a list or add products to your cart using part numbers. If you can't find the product you need in our catalog, simply tell us what you are looking for, we'll find it and send you a quote.
4. Request a Return
Returning products you no longer need takes up valuable time – but our new process makes it faster and easier. Use your original order to begin the return by completing the RMA form online.
5. Manage Your Users
Through your online dashboard, you have complete control over who within your organization can access Van Meter's online platform. You can manage and create new users and control the level of permissions and access granted to each person. If an employee leaves, someone new joins your team, or job responsibilities change, you can make modifications at any time.
Visit vanmeterinc.com to create your personalized account and start saving time! Once you've explored what the new site offers, let us know what you think.