Van Meter Inc Named a 2022 Top 150 Distributor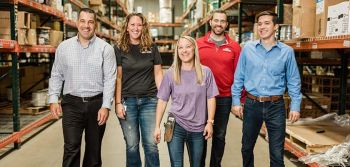 NEWS RELEASE-CEDAR RAPIDS, IA—Van Meter Inc. announced today it has been selected as one of the top 150 distributors in the country by Modern Distribution Management (MDM) Research. Van Meter was ranked 14th among electrical, data and security distributors. Top distributor rankings are based on industry-specific revenues from 2021.
What is the key to success for Van Meter? Chief Marketing Officer, Karmen Wilhelm, credits a strong company culture for keeping everyone on the same page and driving growth. "Our employee-owners are committed to maintaining our company values and creating lasting value for our partners," she said. "As an employee-owned company, we recognize that when our customers succeed, we succeed and the value of our company grows. It is something that keeps our workforce highly engaged and why each of our employee-owners works hard to improve customers' productivity and profitability."
Since 1928, Van Meter has delivered electrical products, solved problems for customers, developed lasting relationships with suppliers and given back to its communities. Van Meter is a 100-percent employee-owned company with over 800 employee-owners and 25 locations across seven states.
MDM is a research, analytical and educational provider in wholesale distribution. To view MDM's full 2022 Top Distributors list, click here.