Work Smarter, Not Harder with Advance Express Programmable Driver System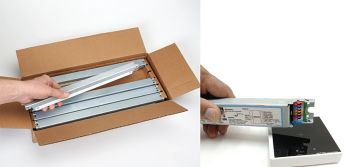 When an LED driver fails in your existing linear, outdoor or downlight LED fixture, it can take time and effort to find the correct replacement driver and then program it for its application. You must know how to read the existing UL label for pertinent information, and then take the steps to make sure it is programmed correctly. At Van Meter, we are here to help you work smarter, not harder. As an authorized Advance distributor, we can guide you to the right driver match in under a minute with Advance by Signify's, Advance Express Programmable Driver System.
It's as simple as 1…2..3..
Bring in your failed LED driver to a Van Meter authorized branch sales counter.
Van Meter's trained staff will take the failed LED driver and utilizing a software program to find you the correct replacement LED Driver.
Once your Van Meter sales rep has located the right product for you, they can easily program it for you so all you have to do is install it! They'll even label it with the appropriate mAmps and dim level percentage information, so you know exactly what to replace it with next time.
Next time an LED driver fails, be sure to stop into your Van Meter branch or contact us today on your needs.
Contact Us