Protect Your Business With New Air Disinfection GUV Products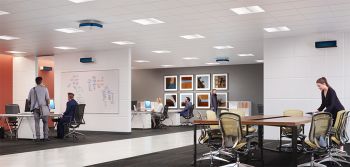 The year 2020 launched an unprecedent time in our history with the COVID-19 pandemic. Businesses had to find ways to protect their employees' and patrons' health. While measures like masks, hand and surface sanitizers help reduce the spread of the virus, they do not disinfect the air in which is the means of the virus' transmission. Why not take an extra step to provide even more peace of mind to your employees and/or patrons with an air disinfecting technology such as a Germicidal UV (GUV) lighting solution?
Cooper Lighting Solutions launched the Fail-Safe's GUV Air Disinfection products that can ensure continuous air disinfection within minutes and does not need a controls system. Better yet, it kills bacteria, mold and fungi and inactivates viruses as long as it's on with no additional disruption to a space by adding any noise. And GUV Air Disinfection has decades of peer-reviewed scientific evidence of their efficacy.
With minimal requirements, ideal applications for Fail-Safe GUV Air Disinfection product – even if people are present can include:
Educational settings such as classrooms, lunchroom, library, administrative office, teacher break room, etc.
Healthcare waiting and patient rooms
Office areas like break and training rooms
Restaurants eating areas and bathrooms
And more!
Video: Cooper Lighting Solutions Upper Air GUV Disinfection Solutions
FAIL-SAFE GUV PRODUCT OFFERING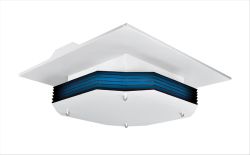 GAW - Germicidal UV Air Wall Mount
The GAW Germicidal UV Air Wall Mount is ideal for larger spaces with walls that are greater than 20' apart and with ceilings greater than 9'.
Available in 2' length
Provides air disinfection for large areas of coverage and its horizontal distribution keeps GUV in the upper air
UL 1598 listed
Able to be used in occupied spaces
---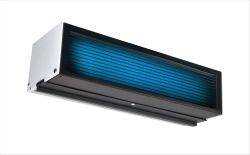 GAC - Germicidal UV Air Ceiling Mount
The GAC Germicidal UV Air Ceiling Mount is ideal for smaller spaces with walls greater than 6' apart and on ceilings above 9'.
Fits in a 2' x 2' grid opening
Provides air disinfection in a symmetrical coverage area and its horizontal distribution keeps GUV in the upper air
UL 1598 listed
Able to be used in occupied spaces
---
Cooper Lighting - Fail-Safe GUV Upper Air Bulletin (PDF)
For more information on these products, contact your Van Meter sales representative.
Contact Us