RETURNING, REOPENING, RESUMING…A COVID-19 UPDATE FROM VAN METER
With many state and regional restrictions being lifted, we are excited to announce that with an abundance of caution, and safety as our highest priority, we will soon be:
Returning our workforce to the office in a phased approach (started mid-June)

Reopening our counter locations to walk-in traffic (on or before June 29)

Resuming in-person training classes and tours (mid-July/early August)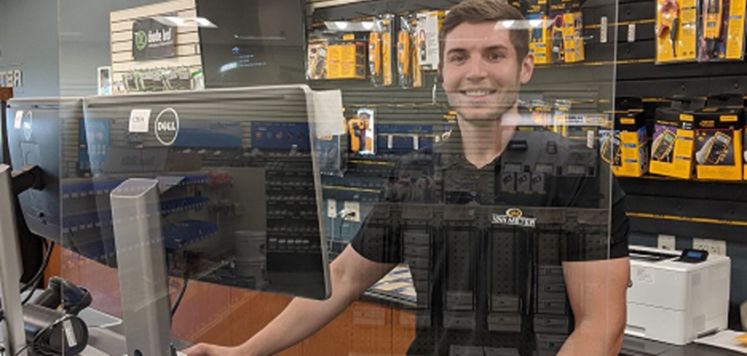 To safeguard your health and minimize the risk of spreading COVID-19, you can expect the following at Van Meter:
A New Look | Our employee-owners will be wearing face masks—especially in public spaces— and/or be stationed behind plexiglass shields.

As our customer and guest, you may be asked to wear a mask as well. If you need a mask, please inquire with one of our employee-owners.
Sanitizing for Safety | Sanitation stations are located at all Van Meter entrances and in meeting/training room locations. We ask that you sanitize your hands frequently while in our facility. Please know our team will be disinfecting frequently touched surfaces and equipment throughout the day.

Keeping Our Distance | We are practicing social distancing, maintaining six feet of separation from other people, and we ask that you do the same. We also recommend that you avoid touching your face and that you use your elbow or sleeve should you need to cough or sneeze.

Pre-Work Screenings | Our team members perform a temperature check at the start of each work shift. They are also encouraged to stay home or go home if they are not feeling well or know that they were exposed to COVID-19. We ask that you take these same precautionary measures.
Prepared for the Possibility | In the event one of our employee-owners were to test positive for COVID-19, we have a robust response plan in place and would reach out to you directly if a potential exposure had transpired.
COVID-19 has re-defined "business as usual" for many industries. As you reimagine things within your business, please let us know how we can help. We have a variety of safety supplies including face masks/shields, gloves, eye protection, sanitizing solution and more on hand to meet your needs. Contact John Smith or Ruth Caves for assistance.
We know you count on us for the products you need to run your business and to complete projects for others. Please know we take this responsibility seriously and are taking steps to mitigate risks associated with COVID-19 and offer a variety of ways to get you what you need when and where you need it.
Drop and Go Deliveries | Our drivers continue to make scheduled deliveries. Please let us know if you have adjusted your practices or are restricting access to any areas of your facility or jobsite. Learn More »
Call Ahead for Order Pick-Up | Whether you are stopping into our counter or taking advantage of curbside or drive-thru pick up, calling ahead is encouraged. Please dial 1-800-247-1410.
Order Online | We launched a new ecommerce site earlier this month. Our online ordering system gives you access to thousands of products available for next-day delivery. Visit www.vanmeterinc.com to place your order online.