New Conveyor Control System is Solution for Van Meter, Others
Whether the need is electrical, lighting, power transmission, data communications, or automation, Van Meter is at the forefront of developing customized solutions for its customers. After doubling the size of its Cedar Rapids, IA, central distribution center, the 100 percent employee owned electrical and industrial supplier needed a customized solution of its own – a new conveyor system.
So Van Meter called on its Customized Solutions and Automation teams to do for it what they do for customers every day. And BoxLogix Automation proved to be the perfect partner for this project and beyond.
CHALLENGE
"The goal of the project was to decrease the dock-to-stock time and get the Van Meter customers their orders within the same day of the order," said Cory Raisbeck, Principal at BoxLogix Automation, a national material handling integrator headquartered in Prairie du Chien, WI.
It was a lofty, but necessary, goal considering Van Meter had added 44,000 square feet to its warehouse. "We had just recently doubled the size of our footprint in the warehouse, and, in doing so, we had to come up with a solution on how we were going to get product from one building to the next," said Van Meter Operations Manager, Kevin Foht, who oversees picking, shipping, and receiving processes.
Van Meter needed a bigger, faster conveyor system that connected each of its warehouse zones. It also needed an easily adaptable system to allow for potential changes from business growth down the road. This meant a traditional centralized conveyor control system wasn't going to be the answer. Traditional systems are controlled by one or two large, central panels, which are individually engineered for each and every conveyor system.
So, if changes need to be made to a conveyor layout, these panels would need to be reengineered. "Knowing what we knew about traditional conveyor installations, and knowing what we know about automation, we did not want a traditional installation," explained Bruce Hallahan, Van Meter Automation Product Manager.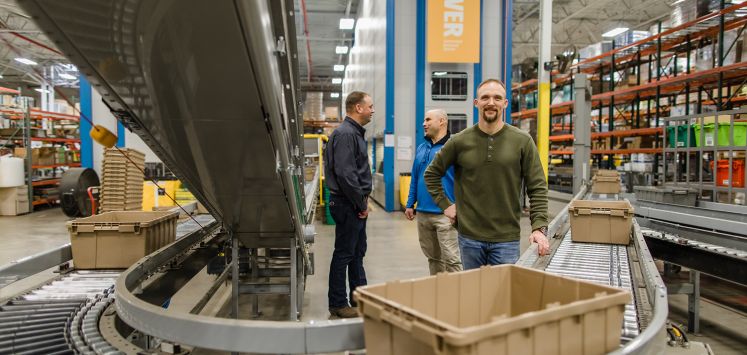 SOLUTION
What Van Meter wanted was a distributed I/O (input/output) control system. "We approached Van Meter about designing a distributed I/O conveyor-centric control system that didn't have to be redesigned," Raisbeck said. "We worked to develop an all-inclusive standardized approach to conveyor controls."
Hallahan and Van Meter Customized Solution Manager, Dave Klostermann, were instrumental in designing and developing the distributed I/O system. John Evitts, Rockwell Automation OEM Solutions expert, assisted Hallahan and Klostermann with product selection, so that the controls system had the best mixture of cost and functionality for Van Meter's needs. "We got together over a series of meetings to discuss processors, networks, distributed I/O, safety systems, and drive selections," explained Hallahan, "and then started putting that together into a distributed I/O system."
Klostermann's team built the small, distributed control enclosures, which can be used to control and increase the efficiency of any conveyor system, not just Van Meter's.
According to Raisbeck, gaining operational efficiency isn't the only benefit of a distributed control system."The benefit of a distributed I/O system is that it reduces installation cost, it reduces installation time, and it allows the company to change the conveyor layout without having to dispose of the existing equipment," Raisbeck explained. "They can actually relocate the distributed I/O boxes when their business changes or grows."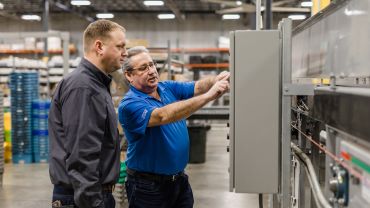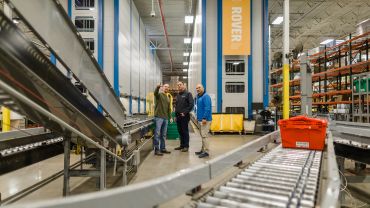 THE RESULT
"Our old conveyor was about three times shorter than our new conveyor that we did with BoxLogix," said Foht. "Not only that, the speed of the conveyor was slower, so it had trouble keeping up with our day-to-day business. And not only did we want to get it to where the conveyor could handle our day-to-day business, but also allowed for future growth for the next five to 10 years."
"The product handling in our warehouse has improved from an efficiency standpoint," said Klostermann. "We're able to handle more product with less people hours. We're able to continue to deliver product on time to our customers."
And unlike Van Meter's old conveyor system, the new system is connected to the receiving department and Kardex vertical storage, which cuts down on employee owners walking the warehouse floor to put away product by hand. "Now that we are using this conveyor for our putaway and receiving process, we are actually processing somewhere between 1,000 and 1,200 totes on the conveyor that we had to do manually in the past," said Foht, who had high praise for BoxLogix and the system it installed.
"I would definitely recommend this setup to other companies. It has the flexibility we need so we could make process changes internally without making expensive equipment changes to the conveyor."

Foht said.
The result of the partnership between BoxLogix and Van Meter is a solution that will benefit not only Van Meter, but any company looking to increase efficiency in its warehouse.
"The success at Van Meter has showed us that the application is important to the conveyor and manufacturing industry," said Raisbeck, "and we feel we could roll this out to many other locations throughout the United States." A second distributed I/O conveyor system is already underway in Southern California.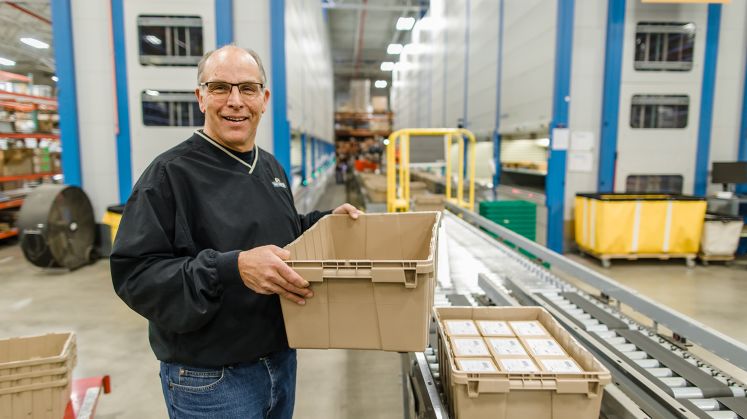 YOUR AUTOMATION SOLUTION
Van Meter Inc. provides expert advice in the selection and design of automation solutions and more. We welcome your call to discuss your next project. To speak with a Van Meter representative, call 1-800-247-1410. We'll quickly connect you with the person or information you need.
---
BoxLogix Automation is a national material handling integrator headquartered in Prairie du Chien, WI. It delivers solutions to e-commerce, retail, business-to-business fulfillment, food and beverage, third-party logistics, manufacturing, and parcel operations.