Cut Industrial Lighting Costs Dramatically with Maintenance-Free LED Luminaires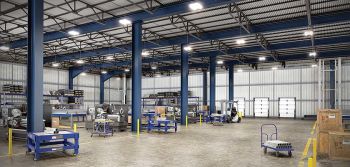 LED lighting technology is powering an efficiency revolution for heavy industry. These products can help set your facility up for long-term savings and success.
Amid an industrial building boom, large industrial and commercial companies everywhere are focused on overcoming barriers to growth. While some look to expand their real estate footprints, others seek out efficiencies inside their existing facilities. Because of the significant ROI that comes with upgrading to industrial LED lighting, the question for many is not whether to modernize, but how quickly.
Today, they have a wide range of industrial LED solutions to choose from that are remarkably versatile and easy to install. Unlike traditional solutions, they are not energy hungry. Nor do they require maintenance, thanks to long-lasting LED lamps and rugged designs to meet the demands of industrial environments.
Here are some of the better solutions on the market today.
Best economical LED industrial lighting:
Metalux LHB LED High Bay
Most industrial business leaders and decision-makers are familiar with LED lighting benefits. However, with all the square footage involved (and even multiple facilities, in some cases), upgrading can come with sticker shock. Fortunately, the Metalux LHB LED High Bay solution offers industrial efficiency and savings with an affordable price tag. Other features include:
It's designed for one-to-one replacement of linear fluorescent and HID fixtures
There are several lumen packages to choose from, from 12K to 36K
The diffused lens provides added protection and glare control
While it's not recommended for complex environments, the LHB is perfect for warehouses and can be an excellent solution for certain manufacturing, big-box retail, and some sports/recreation applications.
More information on Metalux LHB LED High Bay »
Best industrial LED lighting for quick retrofits:
Metalux UHB LED High/Low Bay
The last thing you want to do is interrupt your daily operations for a lighting renovation. While most industrial LED solutions are relatively easy upgrades (since they typically don't require modifications to existing structures), the Metalux UHB LED High Bay solution is about as painless as it gets. Here's why:
With universal mounting, the UHB is designed with quick retrofit installations in mind
Its compact design and round shape also make it easy to install in existing spaces without modification
The lens is designed for optimal light distribution and minimal glare, making it an affordable way to increase efficiency and safety
The UHB is also suitable for many applications, from big box retail to sports/recreation and even complex environments.
More information on Metalux UHB LED High Bay »
Most versatile LED industrial lighting optics:
Metalux VHB LED High Bay
Many industrial facilities require precision design and optics to enhance safety and performance: think cold storage applications, warehouses, and even gymnasiums. Look no further than the Metalux VHB LED High Bay, equipped with advanced technology that allows facilities to adjust and fine-tune the lighting with the flip of a switch. Some of the features we love:
With selectable lumen technology, you can use a simple switch to adjust the output according to the task at hand
The VHB includes the option to integrate a connected lighting system, allowing for more control, scalability, and potential
This solution also features precision optics with multiple distributions and color temperatures to choose from
A compact and lightweight design simplifies installation
Offering energy savings of up to 65%, the VHB is a great go-to for countless projects and applications.
More information on Metalux VHB LED High Bay »
Best all-around LED industrial lighting:
Metalux OHB LED High Bay
If there were an industrial LED lighting product "MVP," this would be our pick: the Metalux OHB LED High Bay, short for "Optimized High Bay." Widely considered one of the most versatile products in the market, it set a new standard for high bay performance when it launched in 2019. A few of the reasons:
The OHB features a remarkably scalable design, with lumen packages from 12K to 60K
Narrow, medium, and wide distributions are available, with the ability to field-adjust the light distribution should the facility layout change
Both the standard and high efficacy options meet DLC Premium standards and can reach up to 208 lumen/watt efficacy
It's compatible with the WaveLinx connected lighting system, with the ability to purchase with or without the WaveLinx sensors and add functionality later
"Because of the versatility of this product, it can go into pretty much any application," said Steve Johnson (see video below), Metalux Industrial Product Manager for Cooper Lighting Solutions. "You can put this any place you need a high bay or even a low bay type product."
More information on Metalux OHB LED High Bay »
Video: Metalux Minute: Metalux Industrial Lighting
---
No matter the budget, application, or requirements, industrial facilities are sure to find the right LED solutions within the Metalux portfolio — including products that are in stock and readily available for your next project.
Download the Metalux industrial lighting stock product guide, or visit Cooper Lighting's industrial solutions website to learn more.