Help with the Digital Transformation Process
The digital transformation process is complicated and can be overwhelming for any business. Whether your company is new or established, you may be questioning where to begin. Those in the middle of the process could be wondering if they have taken the right path. Some companies might be close to achieving their goals and just need a little extra help for the last leg. No matter where a company is in the digital transformation process, we can help.
To create an accurate baseline, any engagement begins with an assessment. A formal assessment could be centered around operations, equipment lifecycle, safety, or information and security infrastructure to accurately identify your organization's needs in order to create your digital transformation plan. Then, it is critical to ask a series of questions about your goals, challenges, success measurement and where you experience problems. Those problems could be anything from having an outdated or unreliable network to inefficient production processes or obsolete equipment. With our findings we can confidently identify and prioritize improvement opportunities to prepare your business for the future.
From there we help you design a digital transformation plan to address the findings and help meet your short and long-term goals. Creating a vision of what you want to achieve and how you plan to get there is important.
To help implement that plan, you can leverage our expertise across a broad range of applications. We are a Rockwell Automation Authorized Distributor with a team of experts that has both industry experience and certifications. Outside of our own capabilities, we can connect you to the resources and expertise of our partners. Support is important throughout the entire journey to ensure your plant is operating at peak productivity in its current state and into the future.
Since the digital transformation process is unique to each business, it does not make sense to follow someone else's standardized plan. Each transformation will come with its own challenges while requiring unique solutions.
The Enterprisers Project (a community helping CIOs and IT leaders solve problems) collected tips from numerous executives who have experienced the transformation personally. Here are just a few:
Ryan Talbott, Chief Transformation Officer for Altimetrik, says that just because digital transformation spans the whole organization, does not mean it all has to be done at once. Identify areas where it makes sense to do it and can handle it. Learn your lessons and apply them to those areas where the transition will be more difficult. Don't force a transformation in an area that cannot handle the change and where it will most likely fail.
Mark Hill, CIO of Nelson Frank, emphasized that digital transformation is not just an IT project to be relegated to the applicable departments. He said it affects the whole business, especially operations, and "it's about changing processes, not just about new software". Hill added if you want proper buy-in across the business, "you have to frame it the right way".
Guneet Sahai, CTO of Mercer-Mettl, reminded that the focus must still be on the people. He said that among all the technological changes and innovation that occur during digital transformation, employees can often be overlooked. However, none of those changes matter if you don't have people with talent to keep the transformation going, continue to innovate and use the new processes effectively.
All the above tells us no matter where a business is in the digital transformation process, there is expertise available to provide support and resources. Companies do not have to embark on the journey alone. We are there to partner with you.
References:
"Simplifying Digital Transformation". Werner Electric. Slideshow.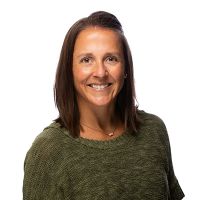 ARTICLE BY:
JACKIE LAFLEUR
EMPLOYEE-OWNER, END USER SEGMENT MANAGER
For more information, please reach out to your sales representative or call 1-800-247-1410.