Get Products Faster and Easier with eBusiness Solutions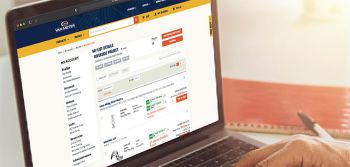 Using an e-procurement platform to purchase products you need not only reduces ordering errors and improves productivity, but also offers benefits from a financial perspective, too.
Aberdeen Strategy & Research says that using the right e-commerce solution can lower requisition-to-order costs by $9 per order and shorten requisition-to-order cycles by 2.6 days. That's money back to the bottom line and time back in your day.
Van Meter's goal is to make doing business with us easier—whatever that means for you. You can reach out in person, via phone, or through email to place orders, but we also offer online options, too. You can get what you need 24/7 and focus on doing what you do best instead of spending too much time on routine order-placing.
There are four ways you can use our online platforms to find the best solution to fit your needs.
EDI - electronic data interchange
Connect to Our Procurement System via EDI
Link your organization's procurement system to Van Meter's system through an electronic data interchange (EDI). This allows our system to "speak" to yours to transfer orders, invoices, shipping status, payment confirmation, and other information. Each order you place with Van Meter will immediately be placed into our fulfillment system. We'll pull the order and get it ready for delivery or pick-up.
eCommerce
Shop Our 24/7 Online Storefront
You can visit our online storefront (vanmeterinc.com) any time—day or night—to shop from more than 25,000 in-stock items plus an additional 400,000+ products. Easily find detailed product information, build quotes, review purchase history, print invoices, and track shipments whenever it's most convenient for you. The storefront is also a quick way to place repeat orders for items you frequently need and use.
Video: Online Ordering with Van Meter
Through the self-service customer dashboard, you can manage these orders, access invoices and monthly statements, create product lists, request returns, manage shipping addresses, and much more.
Van Meter's Top 10 Website Features Unveiled
Punchout
Integrate Punchout Options
If you prefer to funnel purchase orders through your ERP system, then you can easily shop our online storefront from there.
To make this possible, we deploy a cloud service that translates and moves data from our platform to yours so you can access our website from your own procurement application. When you do this, our online storefront appears inside a window within your system. Instead of "checking out" after you add products to your shopping cart, the cart's contents are transferred to your procurement system.
This capability allows you to view up-to-date pricing and product availability so you can accurately one-click shop for all the products you need. This also gives you valuable insight into your spending and processes. We've worked with customers to set up punchout integration with Ariba, Coupa, Oracle, Tungsten, and many other software systems.
Mobile App
Try Our Mobile App
Van Meter's mobile app makes many of our online storefront's time-saving features accessible and easy to use on your tablet or phone.
In addition to accessing our entire product catalog, product searches and availability, and details from previous orders, you can now retrieve your invoice history on the mobile app, too (and place orders, of course!).
Want to learn more about how our ebusiness services can save you time and money? Call us at 800-247-1410 or send a message here.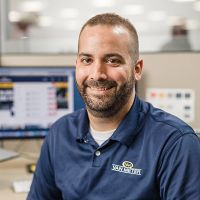 ARTICLE BY:
EVAN FRATZKE
EMPLOYEE-OWNER, PROGRAM MANAGER - DIGITAL MARKETING AND ECOMMERCE
Fratzke joined Van Meter in 2013 and has more than 10 years experience in digital marketing and ecommerce.