Van Meter's Top 10 Website Features Unveiled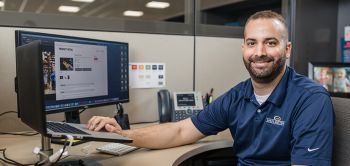 We continue to improve our e-commerce experience based on your feedback.
When we unveiled our new website last summer, we had an important objective in mind: to make online ordering fast and easy for you.
As we continue down this path, we've uncovered additional features to boost the online experience and help you cross things off your to-do list quickly.
We've rounded up this list of 10 features we think you'll be most excited about. Check them out!
1. Build Your Own Product Lists
Think of these lists like your own mini online catalogs, curated from the hundreds of thousands of products available on our website.
You can create as many lists as you need: frequently purchased products, products unique to specific projects, products you want to share with your team members, or products you want to learn more about.
There are many ways to build these lists, too. Use part numbers, upload information from Excel, or include products from your order history. Once your lists are created, you can also share them with others who are part of your online account, giving them as much—or as little—access as they need.
When you're ready, you can add products directly from your list into your cart for online purchase.
2. Track New and Old Invoices
In addition to viewing and managing invoices for online, phone, and in-store purchases, you can also use our filter and search features to quickly find the invoice you're looking for.
Our website lets you search, and filter based on several parameters: shipping address, purchase order number, invoice number, or part number, for example. Each invoice offers a detailed breakdown of line items on a product-by-product basis.
You can also print or export invoices into Excel to share with your team or import into QuickBooks.
3. Use Filters to Quickly Drill Down on Products
Find products fast by filtering your search to include only the products we typically have in stock … or only products you've ordered in the past. You'll need to login to search your previous orders, but the filter for in-stock items works even when you aren't logged in.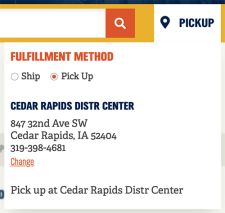 4. Order Online Any Time and Pick Up at Van Meter
You can place an online order any time … and now you can choose to have it shipped or pick it up from a Van Meter location. The system will default to your closest branch for pickup, but you can change the location at any time. If the product is in stock, we'll get it ready so you can swing by and grab what you need on your way to or from a jobsite or the office.
While you shop online, you'll be asked whether you want to pick up your products or have them shipped. Choose what you prefer, and we'll handle the rest! Even better: When you place an online order before 2 p.m.—and the product is in stock at your pickup location—you can get it the very same day. We'll send you an email when it's ready.
5. Take Our Website with You Via Mobile App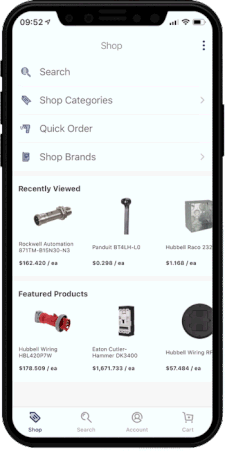 Van Meter's mobile app makes many of the website's time-saving features accessible and easy to use on a mobile device.
In addition to accessing our entire product catalog, product searches and availability, and details from previous orders, you can now retrieve your invoice history on the mobile app, too.
Download Apple app
Download Android app
6. Pay via Credit Card
If you're a Van Meter customer with an existing business account, you can choose to pay on your account or via credit card. A guest checkout option lets you place an online order, pay using a credit card, and ship to any location without logging in.
7. You Manage User Roles and Access
You get to decide which of your team members have access to your online account. This makes it easy to add and remove users as you hire, shift job responsibilities, or lose staff members.
If you're the account administrator, you'll also be able to determine the level of access each user has when it comes to creating lists, viewing pricing, requesting a quote, placing an order (with or without approval), viewing invoices and monthly statements, etc. We've created six user roles, each with its own set of permissions.
8. Customize Your Own Rockwell Automation Products
To help you configure made-to-order products, we've embedded Rockwell Automation's Product Configurator into our website. Login, begin with a standard product, and configure components as needed.
As you go, the website creates a part number for you. Once you're finished, you've got a completed product with a part number, photos, product details, and CAD drawings. Add it to your cart and check out! If you need to re-order in the future, you'll find the configuration in your order history or save it to a product list.
9. Begin the Return Process Online
Sometimes you have to return a product: It's no longer needed, it's faulty, or you ordered the wrong part. Many Van Meter products with a processed invoice can be returned—and you can begin that return process online.
Start the RMA form by simply selecting which product(s) you want to return, telling us why it's being returned, and sending your request to our returns department. Sending the form speeds up the process and lets you initiate a return any time.
10. Discover Training and Events Opportunities
Van Meter is always planning events and training opportunities to teach you more about topics like code updates, automation, maintenance and troubleshooting, industrial controls, and more.
These events can be filtered by location or event type. Once you find what you're looking for, you can reserve your spot online. We'll reach out to you to confirm, arrange payment, and provide more information about the course or training.
If you haven't yet, create your account and start using some of these features! Once you've explored them, let us know what you think.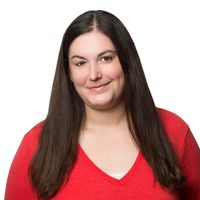 ARTICLE BY:
KIM OLIVER
EMPLOYEE-OWNER, ECOMMERCE PRODUCT DATA SPECIALIST
For more information, please reach out to your sales representative or call 1-800-247-1410.