Electricians, What's in Your Truck (Part Four)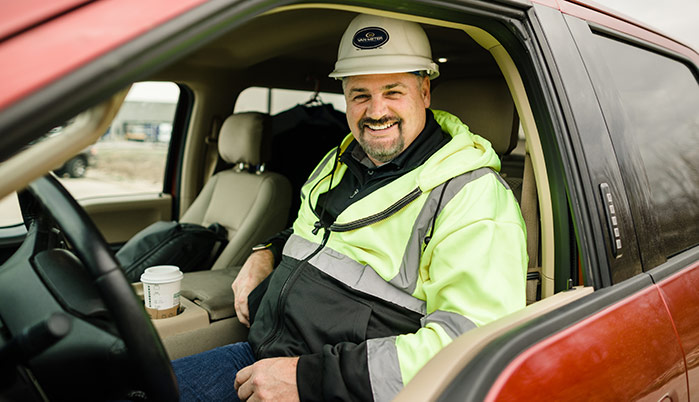 Last year, we put together a three-part blog series called: "Electricians: What's in Your Truck?" In these blogs, I shared what I keep in my own truck to make electrical work safer, more efficient, and extra productive. The response we received was fantastic: You loved learning about some of the tools I always have with me!
So we're back with the fourth installment, where we'll unveil more tricks of the trade to help you make better use of your time and resources. The tools revealed in these blogs will save you money, keep you safe, and help you get more done every day.
As a former electrician, I've experienced first-hand what it's like to push or pull heavy steel fish tape through conduit. It breaks. It gets stuck. It kinks. It binds. And every time one of these things happens, you have to stop what you're doing to fix it. I've also worked with lighter-weight fiberglass, which may be easier to carry – but can also crack or break.
I found a simple solution you can throw in the back of your truck to make a noticeable difference in project downtime caused by fish tape problems.
So let's find out … what's in my truck to help push and pull fish tape through conduit? (And what should be in your truck, too!)
An Easy Way to Push and Pull Fish Tape through Conduit
You know how it goes. You're struggling with heavy steel fish tape, trying to pull wire through conduit that's hundreds of feet long. It's not a straight run, of course – it includes a few bends and turns, which makes the task more difficult. You may even run into previously installed wires to navigate around.
What do you have in your truck now to help push or pull fish tape through EMT or PVC conduit?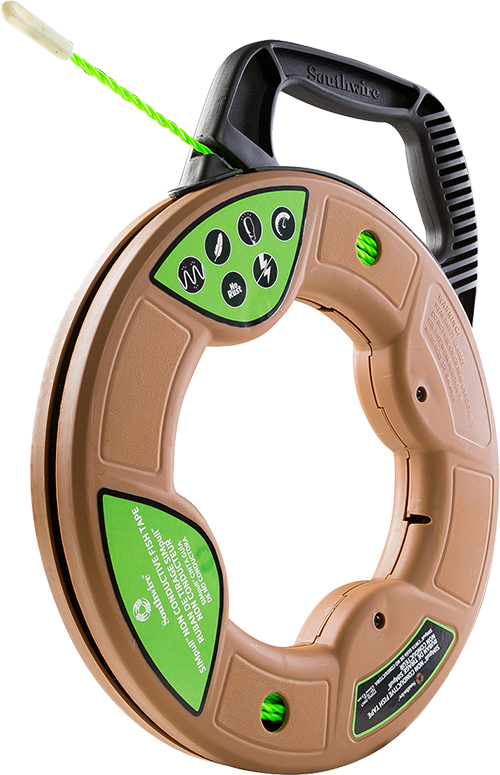 I've discovered that Southwire's SIMpull™ Non-Conductive Fish Tape significantly reduces the amount of effort required to push or pull fish tape. For starters, it's super light and doesn't bind up in the reel. That helps reduce installer fatigue and eliminates the hassles of handling heavy steel.
Its low-friction design combines the best of both worlds: the great flexibility found in fiberglass along with the strength found in steel to withstand long conduit runs. Made of spiral extruded polymer, it's also rust-proof.
This combination saves time and prevents unnecessary interruption caused by tape breakage. SIMpull Non-Conductive Fish Tape doesn't bind at tight-radius turns, 90-degree bends, joints, or couplings. Instead, it easily glides right past these obstacles, rolling off turns and continuing to move without damage. It also resists kinks and breaks – and maintains its original shape after it's bent.
A non-conductive, glow-in-the-dark leader allows you to easily install over existing wires and reduces potential damage to wire jackets.
Simply put, I keep SIMpull Non-Conductive Fish Tape in my truck because it:
Speeds up installation time and reduces installer fatigue
Eliminates many of the frustrations associated with pulling and pushing wire or cable through conduit
Allows you to easily install wire or cable over existing material or in applications with bends, turns, and joints
It combines the best of steel and fiberglass for a strong, flexible tape
Video: Southwire SIMpull Fish Tape
Does SIMpull Non-Conductive Fish Tape sound like something you want to keep in your truck? (Or do you want to try it out?) Van Meter's specialists can meet you in your office or on the jobsite to show you how it works – and how it can truly save you time and hassle so you can be as efficient as possible. While we're there, we can tell you about customers who are seeing great success after switching from steel or fiberglass to this fish tape.
Want to learn about other tools I keep in my truck? (And the tools you should keep in your truck, too?) Check out these blogs (and don't miss the two others being published later this summer):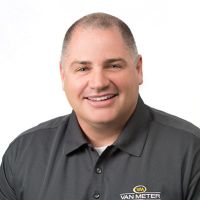 ARTICLE BY:
GARRY O'LEARY
EMPLOYEE-OWNER, CONTRACTOR SERVICES MANAGER
O'Leary joined Van Meter in 2011 and has more than 22 years in the jobsite safety industry.