Electricians, What's in Your Truck (Part Three)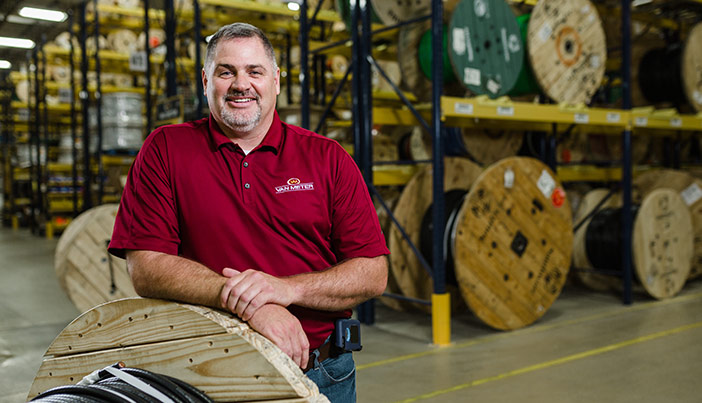 To help you make the most of your day, we've compiled a three-part blog series titled: "What's in Your Truck?" The tools we reveal in these blogs will help make your onsite work safer, easier, and faster – so you can reduce costs, maintain your safety record, and get more done in fewer amount. This is the last blog in the series.
As a former field electrician, I know how tedious and time consuming the process of stripping cable can be – and I've found a few ways to make the process safer and more efficient.
So let's find out … what's in my truck to help strip cable? (And what should be in your truck, too?)
A Safer, Faster Way to Strip Cable
Instead of using a utility knife to strip the outer jacket from the end of a cable, and then making a shallow cut around the cable (without cutting into it), Southwire's XT Cable Stripper offers an easier, faster, safer way.
This tool utilizes a replaceable, precision blade (safely enclosed inside the stripper) that eliminates the need to strip cables with a knife. You no longer have to worry about carrying a knife with you – or having it potentially slip and harm you or someone nearby. Because the blade is fixed, you can strip the cable without scoring it. And because the blade is curved, it's designed to help you make faster cuts. The spring-loaded clamp keeps the cable securely in place so it doesn't slip.
Appropriate for wire with a diameter anywhere between 1/0 (0.33 inches) to 1000kcMill (1.284 inches), the XT Cable Stripper has an adjustable cutting depth; a four-inch depth gauge helps you make consistent, repeatable cuts each and every time. The tool's compact design makes it easy to carry everywhere in a toolbag, toolbox, or tool pouch. Made of aluminum, it can also stand up to use and abuse – no matter where it ends up.
Its cousin, the XT Mini Stripper, works the same way and offers the same benefits – but is suitable for wire sizes of 6 AWG through 1/10 instead.
Simply put, I keep the XT Cable Stripper and XT Mini Stripper in my truck because they:
Decrease the likelihood of jobsite injury and don't require knives to strip
Support faster cuts that are also repeatable cuts, turning out the same every time
Reduce the possibility of cable damage during stripping
---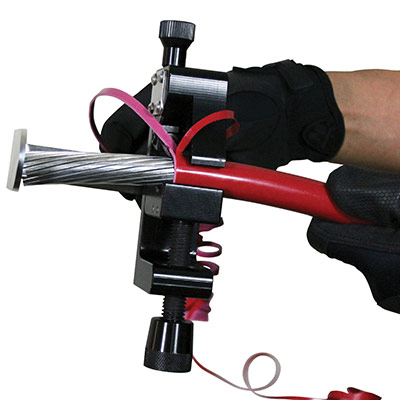 XT Cable Stripper (XTS-01)
For End and Mid-Span Terminations on most 600V insulation types
Cutting depth is adjustable to precisely match in sulation thickness for fast stripping while eliminating Cable Scoring
Adjustable 4" depth gauge provides consistent repeatable cuts
Replaceable, Precision Razor Sharp blade that is safely enclosed within the tool, eliminates stripping cables with a knife
Capacity: wire 1/0 (.33" in diameter) in size to 1000kcMill (approx. 1.284" diameter)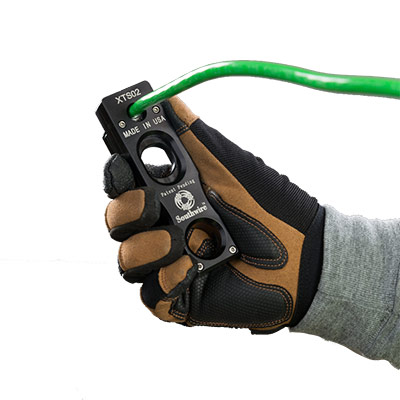 XT Mini Stripper (XTS-02)
For end termination of THHN/XHHW Jacket types XTS02
Fixed blade allows for perfect stripping without cable scoring
Replaceable blade that is safely enclosed within the housing
Capacity: Wire sizes #6 AWG through 1/0
---
Is the XT Cable Stripper something you may want to keep in your truck? (Or do you want to see it in action?) Van Meter has experts and specialists on staff who can show you how these solutions work – and how they can truly save time, money, and resources to help you be as efficient as possible.
Want to learn more about what tools I keep in my truck (and the tools you should keep in your truck, too)? Check out the first blog in our series, which shows you how to pull wire faster and safer using Southwire's SIMpull CoilPak and Guide IT and GripIT.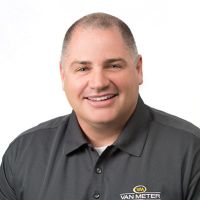 ARTICLE BY:
GARRY O'LEARY
EMPLOYEE-OWNER, CONTRACTOR SERVICES MANAGER
O'Leary joined Van Meter in 2011 and has more than 22 years in the jobsite safety industry.