Electric Ease: Electrical Estimation and Job Management Software
Keep job-related tasks on track with Electric Ease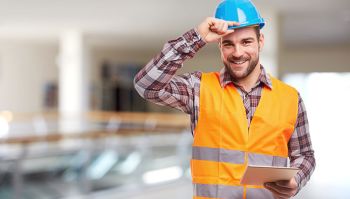 Cloud-based software combines estimation and job management to boost productivity for any electrical contractor.
Inaccurate estimates, frequent supply-house runs, material overruns, lack of internal communication: These things can all drive profits and productivity down. How can you fix these issues? It often comes down to addressing inefficient processes (like having to access several software platforms to complete a job).
Video: Revolutionize The Way You Do Business
A new web-based software, Electric Ease – available exclusively from Van Meter – brings separate components together to keep your contractor business running smoothly. Accounting, time tracking, estimating, access to distributor inventory, and job scheduling can be managed with this one simple app on desktops and mobile devices.
Designed by a master electrician who faced these frustrations, Electric Ease combines estimation and job management, housing everything in one place:
Assemblies and material databases
Job and client description reports
Single-page estimating/job costing
Temporary power tracking
Timecards and employee scheduling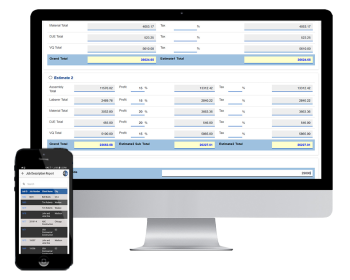 ESTIMATES, NOT GUESSTIMATES
How much money do you leave on the table when you estimate? Profit comes down to labor, overhead, and material costs. This app helps you better understand all three. Once you know when and what you're spending, you'll know where and how to save.
EASY TO USE (REALLY!)
Designed by an electrician, Electric Ease is super easy to learn. Anyone – whether they've been in the field for three days or three decades – can quickly get up to speed. Van Meter can also help with onboarding and training. (It won't take long, we promise!)
ACCESS FROM ANYWHERE
The mobile app can be used anywhere with an internet connection: the jobsite, the office, the supply house, or a favorite lunch spot. Everyone can stay connected to what's happening.
KEEPS WORKERS ON JOBSITES
What do supply-house runs really cost? Consider this equation (using today's average journeyman rate with weekly burden at 1.5 hours):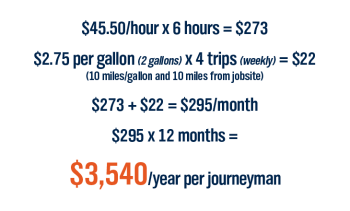 To keep workers on jobsites, Electric Ease builds a material list for each job as it's estimated. The job is assigned to a journeyman so they can view the list, check for materials, place an order, and request jobsite or shop drop-off.
Video: Revolutionize The Way You Estimate
PUTS EVERYONE ON THE SAME PAGE
What happens when you send an estimator to a jobsite? They create a job explanation and price for customer approval. But what about the electrician doing the work?
Now electricians can easily view pricing, scope of work, material lists, and terms and conditions – putting them in tune with estimates for better outcomes. They can also see where they're scheduled to work (and for how long).
CUSTOMIZED ACCESS
For foolproof usage, you can limit access based on each person's specific role. For example: Estimators may need access to nearly everything the app offers while apprentices may only need access to timecards and job calendars.
Ready to try it?
Whether you're a small contractor that needs to get software running for the first time or a large contractor that wants a custom software solution, Van Meter can walk you through your options.
Want to learn more about using Electric Ease? Contact your Van Meter account manager at 800-247-1410 for a free demo.