Keeping Current: 3M Firestop with Garry O'Leary
What is important to know about 3M Firestop? Listen to Garry O'Leary, Construction Services Manager at Van Meter, describe the 3M Firestop product system and how you can get training for proper installation.
---
Build Firestop Into Your Next Project
To give people time to safely evacuate, commercial buildings are designed to prevent the spread of smoke and flames when a fire breaks out. This is accomplished through fire-rated barriers and partitions, such as walls, ceilings, and floors, that can contain fire for a certain amount of time.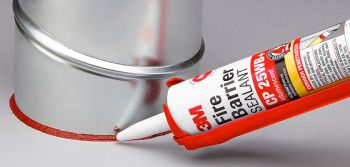 When cables, vents, wires, conduit, and pipes penetrate fire-rated barriers and partitions, they create openings that weaken performance and allow smoke and flames to spread.
Firestop solutions maintain fireproofing by sealing gaps to help contain fire, smoke, and toxic gases. More than 3,000 firestop solutions are currently recognized by UL, from caulks and putties to tape, foams, wraps, and pillows.
Each product is tested and rated based on performance:
Flame Rating (F-Rating): How long it endures fire before smoke makes its way through or it's consumed by flame.
Thermal Rating (T-Rating): How long it takes for the surface on the non-fire side to rise to 325 degrees F.
Smoke Rating (L-Rating): The amount of air that leaks through, measured in cubic feet per minute.
Even though it's a crucial part of any new construction or renovation project, many contractors shy away from firestop installation because they've never done it before, don't know enough about it, think it requires special equipment, or believe certification is needed to complete the work.
3M Firestop Sealant Products
In reality, firestop can be installed by any contractor (no certification or special equipment required). Van Meter is here to serve as your resource to make it happen. We can help you plan for firestop at the start of a project to save time and boost profitability.
Firestop can be installed by any contractor
As a trained and certified 3M Firestop Specialist, I'm ready to visit your jobsite, show you how to use and install firestop products, and help build the firestop systems you need. As a 3M partner, Van Meter can share valuable resources with you to make the process faster and easier.
Have questions about firestop? Give me a call at 800-247-1410.