How to have the Coolest Parking Lot: The Complete Guide to Solar Carports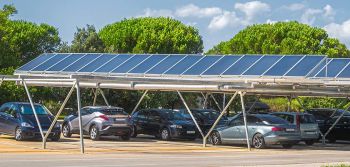 Do you ever dread getting back in your car when you cannot park in the shade during the summer? What if there was a way to provide covered parking while harnessing that heat and energy to power your building? Commercial solar carports can do just that—and are a cool way to take advantage of unused space, provide protection for vehicles and use the sun's energy for a productive purpose. Below is everything you need to know about solar carports.
WHAT IS A SOLAR CARPORT?
Parking lots typically maximize the amount of ground space to fit as many vehicles as possible, but what about the air space above those vehicles? A solar carport is a ground-mounted canopy with solar panels mounted on top. They are high enough off the ground that vehicles can park underneath and be protected from the elements. Many homes have carports for one or two vehicles to provide covered parking in the driveway, but in a commercial setting, solar carports can cover entire rows of the parking lot.
WHERE SHOULD SOLAR CARPORTS BE INSTALLED?
If you are going to get groceries in the middle of the summer, would you choose to shop at the store with covered parking or one without? It could be the difference between getting back into a nice, cool car or subjecting yourself (and your groceries) to extreme heat. Solar carports are a great way to incentivize business for hotels, restaurants, golf courses and more. Car dealerships can protect their inventory from the weather. Businesses offering covered parking provide an additional benefit to their employees. Apartment complexes can collect money from residents for providing covered parking. If people need to park in your lot, solar carports can benefit your customers, your people and your business.
WHAT ARE THE ADVANTAGES OF SOLAR CARPORTS?
In addition to the incentives of covered parking, solar carports can be built and positioned to take full advantage of the sunlight, whereas roof-mounted solar panels are sometimes at a bad angle or too much weight for the roof to support. Think of it as a way to turn unused surface area into a miniature power plant. The result is higher solar energy production and reduced energy expenses. Solar energy from carports is net metered, and businesses producing solar energy receive a credit on their energy bill for the power they produced.
HOW ARE SOLAR CARPORTS CLEANER FOR THE ENVIRONMENT?
Solar carports are good for the environment because they produce solar energy. In addition, many of them are built with electric vehicle (EV) charging stations. The power for the EV chargers comes from your building (so you can still charge your car at night), but it is still a cleaner process since the building is getting power from the solar panels. By allowing EV users to charge their vehicle, you are also giving your customers another reason to visit your business.
HOW WOULD SOLAR CARPORTS AFFECT YOUR BUSINESS?
Solar carports are a great way to save money on electricity long-term and turn your parking lot into a value-added service. If you are interested in seeing your return on investment for installing solar carports and how they can reduce your electric bill, contact one of our solar services experts today.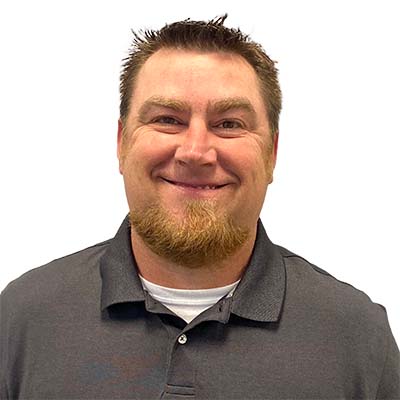 ARTICLE BY:
DAN PRESKEY
EMPLOYEE-OWNER, SOLAR SERVICES MANAGER