New Product: Hubbell Illuminated Plugs and Connectors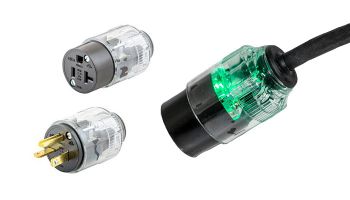 Hubbell's illuminated plugs and connectors are the latest addition to the already broad line of wiring devices. Designed with safety in mind, ultra-bright LEDs let the user know that power is present and flowing to the device. Clear polycarbonate housing allows for visibility from any viewpoint. LEDs are highly visible from distances far beyond the length of the cord.
Utilizing our superior cord clamp design in conjunction with the transparent angled wiring entrance holes, wiring and assembly is easy and efficient. Solid brassalloy contacts ensure a safe and lasting connection for the life of the connector. When reliability needs to be seen, Hubbell has the answer.
FEATURES:
360 degree LED visibility around body
Easily confirm power is flowing through the cord
Constructed of impact resistant durable polycarbonate and nylon
Universal cord grip automatically centers and secures the cord
Elastomeric dust seal prevents dust, moisture, and contaminates from entering the wiring chamber
APPLICATIONS:
Engine block heaters
Outdoor equipment
Power tools
Extension cords
Cord reels
SPEC SHEETS: