Metalux OHB LED High Bay Luminaires: Save money, save time, gain peace of mind.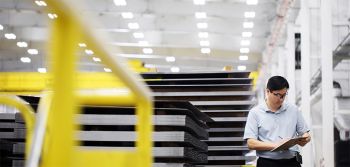 Manufacturing facilities require lighting systems that can perform continuously and sometimes under harsh conditions. Cooper Lighting Solutions' LED industrial products are designed to support a safer and more productive manufacturing environment while providing lower operating costs and the flexibility to meet today's regulatory challenges.
The Metalux OHB is the most versatile LED High Bay industrial lighting solution in the industry. Check out the many features this flexible and scalable unit offers.
A wide variety of applications which include industrial, commercial, manufacturing, food processing, and sports/multi-purpose
The optional addition of an integrated Wavelinx sensor which allows for connected fixtures that can talk with each other, provide data such as energy management, space utilization and much more all while meeting code requirements
Diverse lumen package ranging from 12,000 lumens up to 60,000 lumens
Narrow, medium, and wide distribution, which can be easily adjusted at any time right in the lens without hiring an electrician
Efficacy up to 210 lumens per watt
Energy-efficient one-for-one replacement of linear fluorescent and HID fixtures
VIDEO: Short overview of the Metalux Industrial Products and the OHB
OHB (Optimized High Bay) LED High Bay luminaires: