Aagard's Industrial Robotics Solution is the Future of the Packaging Industry
CLIENT: AAGARD | LOCATION: ALEXANDRIA, MN
The robot revolution is upon us, but it's probably not like you have seen in sci-fi movies. Aagard, a packaging equipment supplier in Alexandria, MN, is partnering with Rockwell Automation and Van Meter to demonstrate why industrial robots are the future of the packaging industry. Do you need speed, efficiency and flexibility in a tight workspace? Robots could be the future for you too. Watch the video to see the robot demo in action, or read on to discover how Aagard's industrial robotics solution is solving challenges for its customers.
HOW PACKAGING PRESENTS UNIQUE CHALLENGES
Think of all the items you see in stores while shopping or getting groceries. How did it all get there? We may not think about how everything gets packaged and shipped, but it's Aagard's job to anticipate and solve its customers problems like limited space and inefficient and inflexible equipment.
Ross Feiler, Lead Applications Engineer at Aagard, said, "Many times our customers are working in old plants with limited space. The industry is moving towards smaller carton and case counts, which increases the work rate of equipment, and our customers are demanding more flexibility to be able to make changes to recipes."
Aagard solved each of those challenges – with one piece of equipment.
HOW A UNIFIED ROBOT CONTROL IMPROVES SPEED AND EFFICIENCY
How did Aagard boost speed and efficiency? Partnering with Van Meter and Rockwell Automation allowed them to develop a user-friendly, easy-to-use solution for its customers.
There are many types of industrial robots that can either solve a specific challenge or be redeployed in several ways. Aagard's demo uses a Comau unified robot—a six-axis robotic arm – to demonstrate what is possible now and in the future. This user-friendly piece of equipment allows a customer to pick multiple products at once and put corner boards on in a tight space, all under one programmable controller. Instead of requiring a separate controller with a separate programming language, it is controlled by the 5700 series Allen-Bradley drives and PLCs (Programmable Logic Controller) Aagard already uses. This integration led to several advantages, such as:
Less effort with double programming languages
Less training effort
Easier error tracking
Less production space required
No extra controller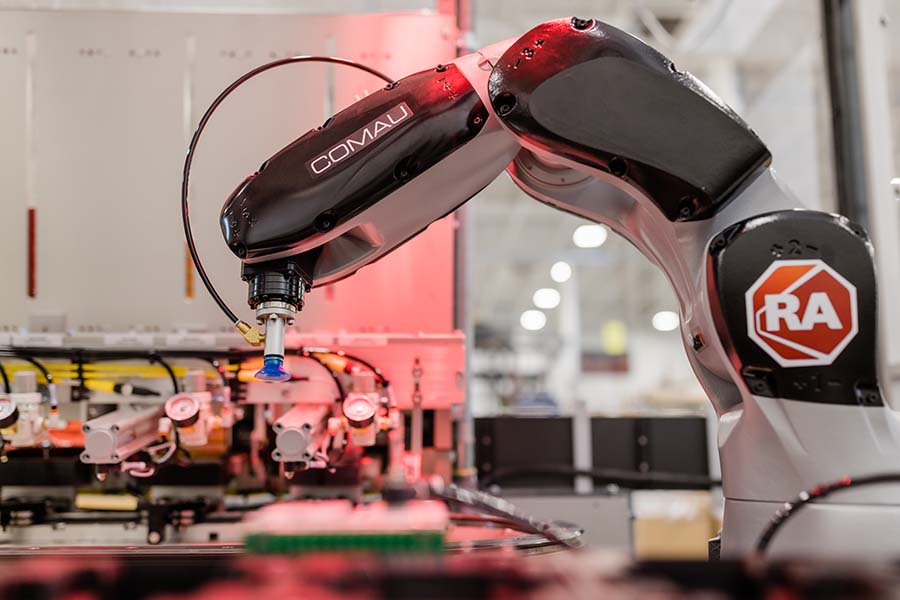 With Unified Robot Control, everything operates on Rockwell Automation's Studio 5000 Automation System Design Software rather than trying to coordinate and combine two separate systems. This saves time when programming robots, and it lessens the skills gap.
Instead of needing a PLC programmer and a robot programmer, anyone familiar with Rockwell Automation PLCs and software should be able to program and control the robot and the machine.
HOW ROBOTS ALLOW FLEXIBILITY IN TIGHT WORKSPACES
Think of all the items you can buy online. There are endless combinations of products you can have packaged and shipped to your door. How do the correct products make it into that box? Aagard knows its customers need the flexibility to select different products on demand, and by partnering with Van Meter and Rockwell to develop a robotics solution, it could provide flexibility with one small machine.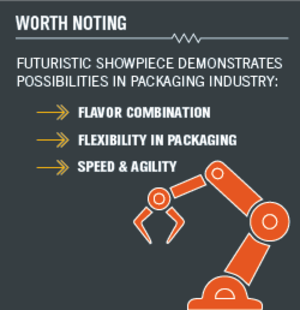 "What we are demonstrating is flavor combination—we're taking four products and combining them in several ways as the customer requests," said Feiler. "Another technology that's demonstrated is Independent Cart Technology from Rockwell, and that's needed on this equipment to have flexibility."
In Aagard's case, the robot can pick and place different items onto individual carts based on the demand of the customer, and it can do the task more quickly and accurately than a human worker. Using candies as an example, whether the customer needs an orange, a cherry and a lemon, two lemons and a cherry, or all cherries, the robot can detect, select, and grab the appropriate amount of each.
Independent Cart Technology allows the robot to place a product into a cart before it is moved along for packaging. Instead of relying on conveyors with gears, chains and belts, it uses magnets to precisely control motion with frictionless propulsion.
This technology is useful for this application because it allows Aagard the flexibility to combine curved and straight sections of track to meet its design and space requirements. Each cart in the system can sense where other carts are on the track and either speed up or slow down to reduce bottlenecks and increase output.
PARTNERSHIPS MAKES PROGRESS POSSIBLE
Van Meter supplied the Comau arm, 5700 Allen-Bradley drives, enclosures, sensors and lighting for this special piece of equipment, but more than parts, it was a partnership that made the project successful.
"Van Meter is a great partner," Feiler said. "As everyone knows, in the industry right now, it's difficult to get components, and so they worked with us to supply and provide most of the components on this equipment. They're finding a way to get us the parts that we need on time, even though that's difficult in today's age."
Feiler also commended Van Meter for great support. "They provide components, but more than that, they work with us to try to understand the market and work with us to try to understand what the future holds."
Zach Dotson, Solution Architect at Van Meter, takes pride in helping customers surpass their goals. "At the end of the day, my reputation relies on my ability to provide a solution and advise as needed," Dotson said. "When I'm able to do that successfully, it's a great feeling knowing that I not only help my customer but their end user, and this machine will be going into a facility that's ultimately providing products for everybody in the world to use."
Because of this partnership, Aagard's robotic solution, or something like it, could soon be used all over the world.
"It's a really great feeling not only to provide a machine that does a job," said Feiler, "But to work with our customers, to work with our vendors like Van Meter and Rockwell and fully understand the problem and bring the right solution. If you do that enough times, you start to change the industry."
How could partnering with Van Meter help you discover innovative solutions? Call 1-800-247-1410 or reach out to your account manager to connect with an expert and discuss how robotics or smart machine solutions could boost your productivity.