NIACC Poised to Save $10.7 Million with Iowa's Largest School Solar Array
North Iowa Area Community College (NIACC) in Mason City has a history of making environmentally conscious, sustainable decisions. With solar technology soaring, tax credits available, and a private investor lined up, the time was right for the college to break ground on a 2.5-megawatt solar array, the largest of any school in Iowa.
Case Study: NIACC Poised to Save $10.7 Million with Iowa's Largest School Solar Array (PDF)
In order to navigate such a massive undertaking, the college called on an experienced team of solar experts, starting with MODUS, a consulting engineering firm. MODUS brought in Iowa's largest solar company, 1 Source Solar, which partnered with ABC Electrical Services and Van Meter Inc.
Challenge
NIACC's focus on sustainability has already led to lighting and HVAC improvements. Adding the largest solar array of any community college in the country will have an even greater impact.
But a project this large isn't without its share of logistical challenges, especially with a timeline of just four months. And then there's the weather.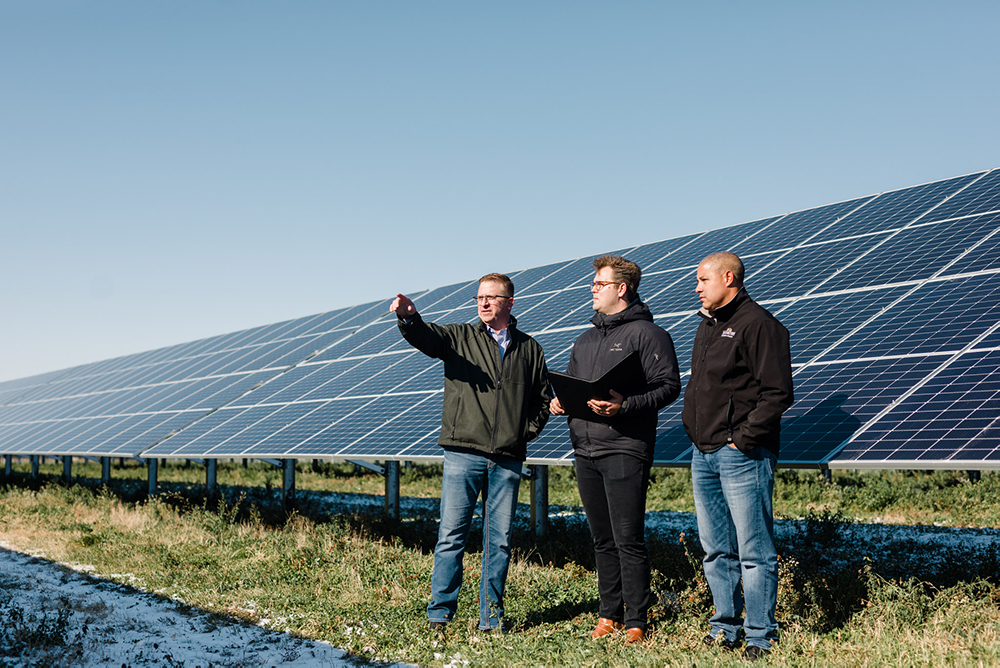 Solution
Like many cities in the Midwest, Mason City can have long winters. According to weatherspark.com, the Cerro Gordo County seat is under cloud cover 58 percent of the time nearly eight months out of the year (from Oct. 20 to June 6). And with daily high temperatures below 37 degrees on average from late Nov. to early Mar., the NIACC campus can be buried under a blanket of snow for months.
That's why Van Meter's solar experts recommended Astronergy, 440-watt bifacial solar modules for the project design. "We really spent a lot of time on the module selection in this case," said Chad Wiltz, Van Meter Vice President of Business Development. "We used a bifacial module, and, particularly, we used the bifacial module due to the fact that it can have backside production." While traditional solar modules capture light on one side, bifacial modules have solar cells on both sides, allowing light to be absorbed from the back of the module as well.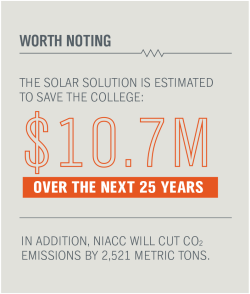 This means NIACC's 5,800 bifacial modules will produce more energy throughout the day from backside reflection, and the reflectiveness of snow will only add energy production.
In fact, bifacial modules can have 15 percent more energy production while not increasing carbon footprint. "The knowledge that Van Meter brings really does help us as we lay out a solar array, do the complete design, and choose the components that are going to go into that array," said 1 Source Solar Vice President, Scott Prohaska.
In addition to aiding the project design, Van Meter also played a vital role in keeping the project on schedule.
"One of the areas of concern is the coordination of everything," Prohaska explained. "So having Van Meter there is very valuable to us. It takes a lot of stress and a lot of pressure off our operations manager and our supervisors."
Site superintendent, Adam Sperry, of ABC Electrical Services echoed that sentiment. "From the online ordering and the ease and convenience of that, to the timely delivery, I know that material is going to show up when I need it and when I'm looking for it and not any other time," said Sperry.
Van Meter also recommended and supplied mounting systems from Preformed Line Products.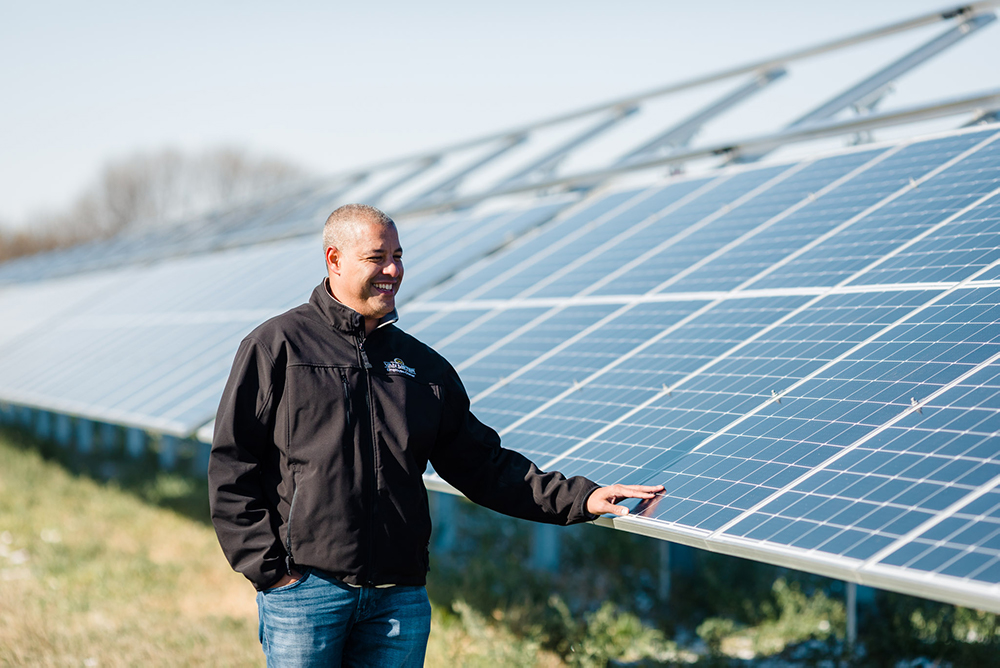 Result
The efforts of all those involved have set NIACC up for substantial energy savings for decades.
"With the addition of solar, we ought to be able to save them right around $400,000 dollars per year,"

Todd Miller, 1 Source Solar President.
In all, it is estimated that the college will save $10.7 million on its electrical bill over the next 25 years. And massive savings aren't the only benefit.
The school's carbon footprint will be heavily reduced, and its undertaking might just become a blueprint for other colleges and universities in the state and beyond. "When you start looking at the array and the diagnostics...," explained Prohaska, "the dashboard will start to show how many equivalent trees have been planted, how many pounds of CO2 have been saved."
By utilizing solar power technology, NIACC will cut CO2 emissions by 2,521 metric tons. It would take 41,684 tree seedlings grown for 10 years to remove the same amount of CO2 from the atmosphere.
"I honestly couldn't ask for a better team to work with on a project this big and so many moving pieces," said MODUS electrical engineer, Blake Riffel. "Everyone's been really able and willing to help make it a successful project, keep it on schedule and under budget, and really deliver a project that I know the customer and the community is going to be pleased with."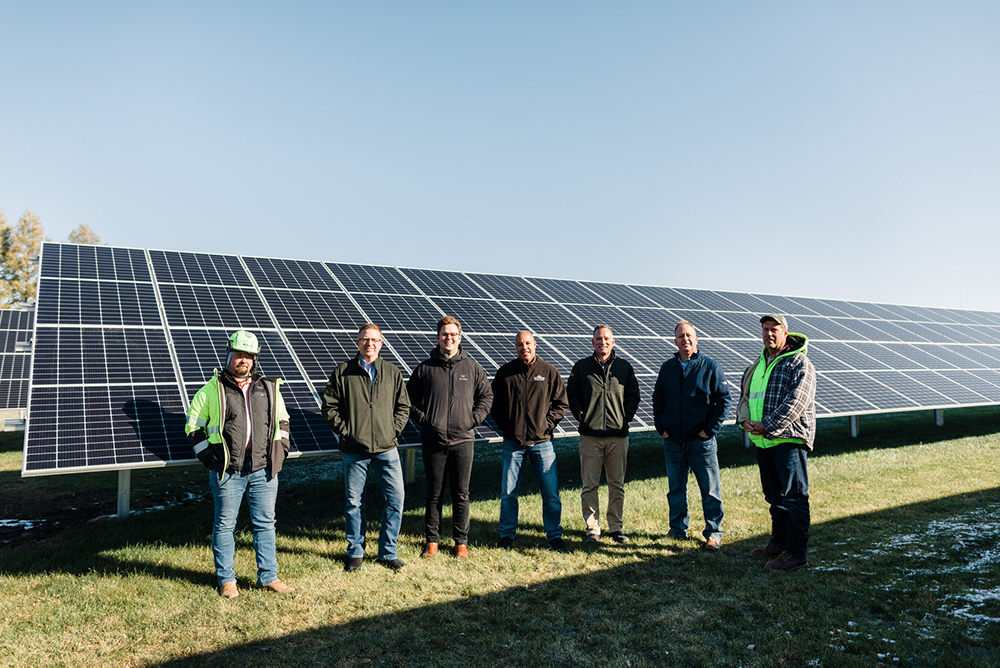 Your Solar Solution Partners
Van Meter Inc. provides expert advice in the selection and design of solar energy solutions and more. We welcome your call to discuss your next project. To speak with a Van Meter representative, call 1-800-247-1410. We'll quickly connect you with the person or information you need.
---
1 Source Solar
1 Source Solar operates out of Ankeny, Iowa, providing turn-key solar solutions for residential, agricultural, and commercial projects.
ABC Electrical Services
ABC Electrical Services is a Des Moines, Iowa, electrical contractor offering commercial, industrustrial, residential, and data communications services.
MODUS
MODUS is an Iowa-based consulting engineering firm specializing in mechanical, electrical, and technology engineering for the construction industry. It has locations in Des Moines, Iowa City, and Waterloo.