Kathy Etscheidt – Celebrating 60 Years at Van Meter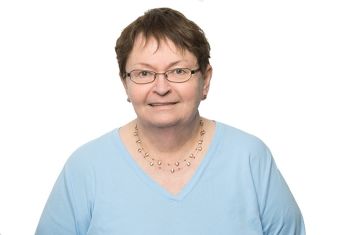 Two weeks after she graduated from high school, Kathy Etscheidt applied for a job handling billing and invoices for Van Meter, Inc. The manager who hired Etscheidt predicted she'd quit in less than two years, once she got married and started a family. Etscheidt was 17 years old. The year was 1959.
"At that time, people married young and started having kids at a young age and a lot of moms didn't go back to work," Etscheidt recalls. "I got married, when I was 18, and then I had three children. But I continued working."
Did she ever. Etscheidt – known by her colleagues as "Kathy E" – still works in the finance department at Van Meter, a wholesale electrical and mechanical supply distributor based in Cedar Rapids. The company is preparing to celebrate her 60-year work anniversary on June 13 – an event that Etscheidt's supervisor, Nate Jensema, says she wants to stay "low key."
"She said to me in her stern voice, 'Nate, don't go over the top with this, I'm trusting you,'" Jensema says with a laugh. "She doesn't like to be the center of attention. But this is a big deal for all of us, too. We want – we need – to celebrate her passion for this company."
Etscheidt's actual duties as accounts payable coordinator haven't changed much over the years. She's still "the keeper of the money," as Jensema describes her, writing checks to vendors, entering expenses and making sure invoicing is spot-on. With the exception of payroll, payments don't typically go out the door until Kathy E sees them first, he says.
"She's as sharp as a tack," Jensema says. "She catches mistakes, probably most of them. She just knows things intuitively, and she does her job extremely well."
Sixty years of institutional knowledge has served Etscheidt – and Van Meter – well. She's worked under seven different presidents. She's moved through three different office buildings as the company grew from less than 20 people in her first location to the roughly 500 it has in 15 Midwest locations now. She's transitioned from typewriters and carbon paper to computers and accounting software programs. The technology advancements never fazed Etscheidt, 77, largely because Van Meter always took the time to train employees and support their learning, she says.
"I've never felt like I was falling behind, because the training here is outstanding," says Etscheidt, whose business acumen comes completely from her work experience at Van Meter. "And no one has ever treated me like an old lady."
When she first started at Van Meter, Etscheidt made $1.25 per hour; now she and her colleagues share ownership of the company under its Employee Stock Ownership Plan – a benefit for sure, but also a responsibility to do what's best for the future of the business, she says. The result is a workplace culture that has repeatedly been recognized for its employee satisfaction and engagement, and as one of the most desirable places to work in Iowa.
It's also why Etscheidt has no plans to retire anytime soon.
"Honestly, I know I can retire at any time and live quite comfortably," she says. "But why would I leave? Every day I get to do a job that I love. It's good for me to have these connections, and be around younger people. It's important for me to see this company flourish."
"Every day I get to do a job that I love. It's good for me to have these connections, and be around younger people. It's important for me to see this company flourish."
Jensema says that's exactly why Van Meter celebrates Etscheidt, and others who have dedicated so many years making a difference in the company. Another employee-owner has been with Van Meter for 45 years – the second longest in history behind Etscheidt.
"It makes me feel proud that we together, collectively, have built a place where people want to stay," he says. "And Kathy E's not just here to be here, she's here because she loves what she's doing. It's something to really admire about a person."
Like senior leaders before her, Van Meter's President and CEO Lura McBride has consulted with Etscheidt on various topics or activities over the years, sometimes just to run an idea by her or get a broader perspective about something. McBride says she can always count on Etscheidt to share her thoughts on the past and "tell it like it is."
"Kathy is an incredible example of an all-in employee-owner," she says. "Her 60 years of experience and insight are a true inspiration to the people around her."
For her part, Etscheidt humbly understands the attention being given to her latest work anniversary (although she is quick to point out that there have already been celebrations at the 50- and 55-year marks, too). She realizes how unusual it may seem to others that she chooses to continue to work fulltime at her age, noting that all of her friends are already retired and have been for some time. But they were different, she says. They had jobs they weren't happy doing at places they didn't like working – something Etscheidt struggles to imagine.
"Some of the stories they tell about what went on at work for them . . . that kind of stuff wouldn't last two minutes here," she says. "People here are just nice. They aren't afraid to ask you how you're doing, and look you in the eye and actually mean it."
She pauses, remembering how supported she always felt as a young employee juggling her children's sports games and scouting events and now, as a grandmother attending any number of her grandkids' activities.
"Honestly, I don't know how I got to be so lucky."