What a Proper Lighting Takeoff Can Do for You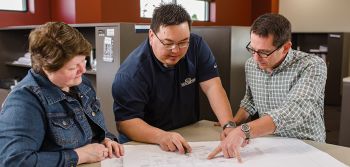 Looking at blueprints and construction plans can be overwhelming when you're trying to determine exactly what's needed to complete a lighting project – whether it's for a large, multi-story building or a small warehouse.
Acting almost like a map, a construction plan includes notes and two-character symbols (created by the engineer who designed the plan) that represent various lighting fixtures within the project.
To generate a comprehensive and accurate list of materials to purchase, these plans need to be studied and interpreted. (Another way to think about it: You can't simply list "lighting" on the list of materials and move on to the next component of the project. "Lighting" needs to be broken into exactly which components are needed, right down to the mounting brackets, lamps, or other required accessories.)
If the wrong (or too few) materials are ordered, project delays and cost overruns may occur. If too many materials are ordered, financial losses may result.
In addition to helping generate an accurate list of materials – that includes everything from the specific manufacturer and fixture to exact sizes and options – conducting a lighting takeoff also ensures consistency when measuring and counting the symbols on construction plans. This added benefit helps you:
Identify the true quantity of lighting components required for the job
Reduce the amount of time it takes to estimate and order materials for a lighting project
Eliminate errors in determining fixture types and quantities
Ensure correct lighting levels in each area of the project
Determine true labor costs
Prevent over- or under-ordering
Maintain project profitability
Van Meter works directly with our lighting rep agencies on the more complicated projects to provide insight to the lighting takeoffs. We can compare our fixture counts to the construction takeoffs completed by contractors and subcontractors. This comparison helps pinpoint any discrepancies and verifies final plans.
Our lighting expertise during the takeoff process is also valuable when it comes to knowing the intricacies of specific manufacturers, fixtures, installation requirements, or path-of-egress lighting. An estimator or contractor may not know these details when conducting their own takeoffs – but this information is vital to know before ordering (such as the type of ceiling that will hold the fixture).
Providing these take-offs, helps us feel confident that we're equipping you with accurate information so you can complete your project on time. It also helps us become intimately familiar with your project so we understand potential challenges and how things will come together on the jobsite.
We'll be there to help with every step of the project. From lamps and fixtures to lighting design and audits, Van Meter's team of specialists knows lighting.
And because we get to know your individual project so well, we can serve as your go-to resource: You can call us anytime, and we're happy to answer questions – even a year or more down the road!
P.S. We're pretty good at being able to provide information right away, too, instead of having to do research first before we can get back to you.
SOLUTION SPOTLIGHT BY:
JAMIE MCALLISTER
EMPLOYEE-OWNER, LIGHTING QUOTES SPECIALIST
McAllister joined Van Meter in 2017 and has spent nearly 25 years in the lighting industry