8 Ways to Manage Orders Online with Van Meter
You are placing orders every day to make sure you have the parts you need for production and maintenance. Supply chain issues are affecting lead times, especially on industrial components like VFDs and PLCs. Your list of open orders has grown, and keeping track of what has shipped, what is still open and when things will be available has never been more difficult. Compiling a list of open items to send to your supplier is cumbersome, and waiting for a response can be time consuming.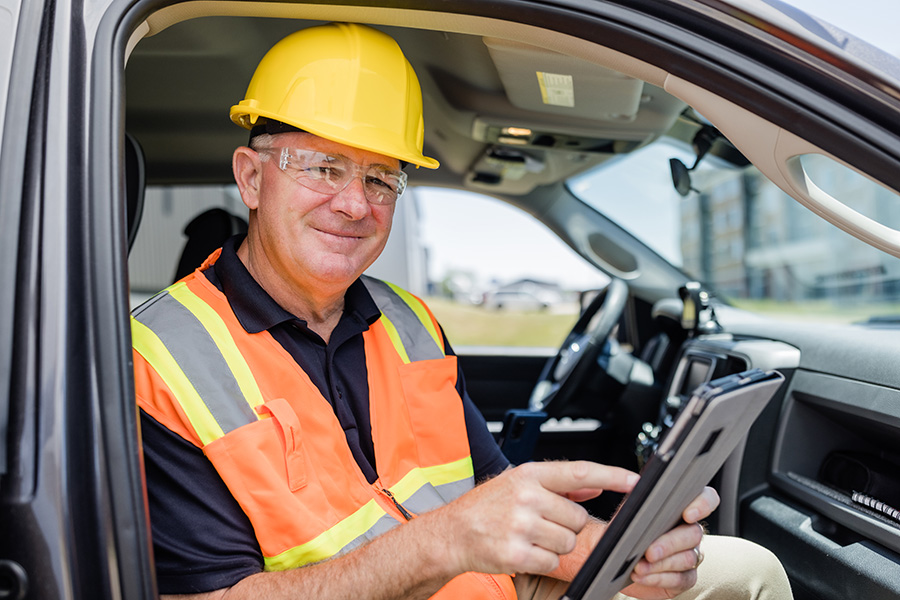 Sound familiar? We know the struggle can be real, so Van Meter's goal is to make doing business with us easier. To help you save time and effort, here are eight ways to manage your orders using our online platforms.
1. ORDER VIA ELECTRONIC DATA INTERCHANGE (EDI)
Placing orders via EDI makes the order entry process more automatic and can reduce order errors by 30-40%. Linking your organization's procurement system to Van Meter's system through EDI allows our system to "speak" to yours to transfer orders, invoices, shipping status, payment confirmation and more. Each order you place with Van Meter is immediately placed into our fulfillment system, so we can pull the materials and get your order ready for delivery or pick-up.
2. SHOP OUR 24/7 ONLINE STOREFRONT
Shop on vanmeterinc.com day or night, and access information on a schedule that works for you. You can get information on more than 25,000 in-stock items (plus an additional 400,000+ products), including product specifications, quotes, purchase history, past invoices and shipment tracking. The storefront is also a quick way to place repeat orders for items you frequently need and use.
3. INTEGRATE PUNCHOUT OPTIONS
If you prefer to funnel purchase orders through your ERP system, you can easily shop our online storefront from there.
To make this possible, we deploy a cloud service that translates and moves data from our platform to yours, so you can access our website from your own procurement application. When you do this, our online storefront appears inside a window within your system. Instead of "checking out" after you add products to your shopping cart, the cart's contents are transferred to your procurement system.
This capability allows you to view up-to-date pricing and product availability so you can accurately one-click shop for all the products you need. This also gives you valuable insight into your spending and processes. We have worked with customers to set up punchout integration with Ariba, Coupa, Oracle, Tungsten and many other software systems.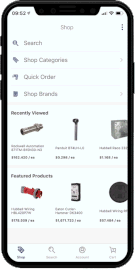 4. MANAGE ORDERS ON THE GO WITH VAN METER'S MOBILE APP
We cannot always be at our desks. Whether you are working on the plant floor or traveling, Van Meter's mobile app makes order management tools accessible and easy to access on your tablet or phone. In addition to accessing our entire product catalog and details from previous orders, you can retrieve your invoice history and place orders.
5. ANSWER FINANCE QUESTIONS WITH MONTHLY STATEMENTS
Long lead times and an influx of open orders can make billing more unpredictable. Monthly statements are available to you anytime from your personalized Account Dashboard. Monthly statements are available for up to a year, and from the same screen, you can view your credit information, payment history and account balance.
Only users designated with the Admin or Finance user role will have access to monthly statements. If you do not see the Account Summary section in your account dashboard, please reach out to the administrator of your online account, or contact [email protected] for help.
6. SEARCH YOUR INVOICE HISTORY
Are you missing an invoice? Do you want to double check a charge? You can access invoices from your Account Dashboard for all purchases, whether they were made online or not. Search or filter your invoice history by shipping address, purchase order number, invoice number, part number and date range to narrow down the results and quickly find what you need. Each invoice offers a detailed breakdown of line items.
You can export invoices as well. Export a list of invoices with important details like invoice number, due date and balance, or export the details of a single invoice with product names, product numbers, quantities and pricing. Invoices export to an Excel spreadsheet, so you can print, share with your team or import into your accounting software.
7. SEARCH PAST AND OPEN ORDERS
If you send and receive several orders a day or week, how do you keep track of which items have shipped and which items are still open? Search or filter your open orders by order date, order number, PO number, ship-to address or total cost, or view your order history to find proof of delivery information and quickly reorder a group of products.
8. INITIATE RETURNS ONLINE
Mistakes happen, so we make the return process simple. Don't waste time figuring out who to contact or where to send products. Initiate returns online from the order details page by filling out the return request (RMA) form with the products you want to return, quantity and reason for return. Your request gets sent to our returns department to begin processing. Once someone supplies you with the correct paperwork, simply attach the RMA form to your shipment and send it to the supplied address.
Supply chain issues don't have to make managing your orders more difficult. If you have not done it yet, create an online account, and start using these great features (and more!).
If you haven't yet, create your account and start using our features! Once you've explored them, let us know what you think.
ARTICLE BY:
KATIE KURSCHNER
EMPLOYEE-OWNER, MARKETING COORDINATOR, E-COMMERCE & DIGITAL