McBride Inducted into JA Business Hall of Fame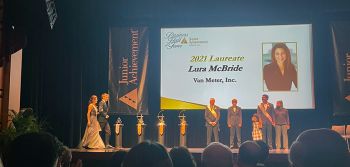 Lura McBride, president and CEO of Van Meter Inc., is setting the modern standard for business leadership. Tireless, optimistic and authentic describe her approach to business and life.
Ask her colleagues and peers about Lura, and they use words like strategic, visionary, straightforward and tough. They also speak of her skills in making genuine connections with people and how selflessly she gives of her time to the community and its organizations.
Growing up in Cedar Rapids, Lura was actively involved in school activities and learned about work ethic, independence, stability, and helping others from her parents and siblings. One thing she knew for sure, she always wanted to be a mom. Unsure of what she wanted to do for her career, she went to University of Iowa and graduated in 1993 with a double business major in Finance and Marketing.
After graduation and before joining Van Meter, Lura spent 15 years with the global management consulting company Accenture. In that time, Lura and her husband Ryan moved back home from Chicago, began raising a family, and created a home in Cedar Rapids. In 2006, Lura found herself on the CBJ's Forty under 40 list, gaining attention from Barry Boyer, former CEO of Van Meter, and the rest is history.
Lura joined Van Meter as vice president of organizational effectiveness in 2008. From there, Lura continued to help the business succeed by creating highly performing teams with strong culture and values. She began to take on more opportunities and eventually applied for the role of CEO, and was named president and CEO in 2016. "Lura is a wonderful example of what can be accomplished by a leader who understands that the role of a leader is to see the path, and to lead the way, and to not be afraid to lead from the trenches if that is necessary to show the team that it is all about the team," said Mary Quass, president and CEO of NRG Media LLC.
Already a success story when Lura joined the company, Van Meter has seen significant growth and strategic focus under her leadership. Today the company has over 800 employee-owners in 25 locations in Iowa, Nebraska, Kansas, Virginia, Alabama, Wisconsin and Minnesota. Karmen Wilhelm, Van Meter employee said, "Lura instills in us to build our best team." Van Meter has also received several company recognitions, including Inc. Magazine's 200 Best Small Places to Work in 2010, America's Top 25 Largest Electrical Wholesalers, and Coolest Place to Work in the Corridor.
"She has been such a great leader for Van Meter and in the community and professionally. She is a superwoman; it is impressive how she can impact so many, be a mom of four kids, and get so much accomplished," said Bruce Lehrman, friend and Van Meter board chair. Lura's broad, positive impact extends to service on the boards of many professional and nonprofit organizations, including the Van Meter Board of Directors, the National Association of Electrical Distributors Foundation Board, United Fire Group, Tanager Place, the Hall-Perrine Foundation, Unity Point Health – St. Luke's Hospital, University of Iowa Tippie College of Business, and the Cedar Rapids Police Chief Council.
In her personal life, Lura and Ryan have four children, Parks, Marek, Macyn, and Watts. Lura focuses her free time on her family with time together. She is continuously learning through books and conversations, and looks forward to more community work, Van Meter plans, and family time.