Power Your Future: Noah Wilson Earns Scholarship, Plans Career In Electrical Trade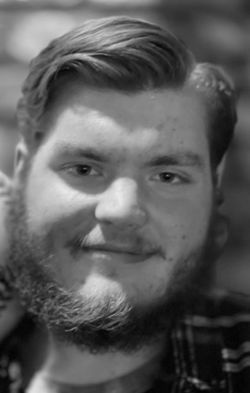 Congratulations to Noah Wilson, a 2022 graduating senior at John F. Kennedy High School in Cedar Rapids, IA, and recipient of this year's Gilda and Barry Boyer and Van Meter Inc. "Power Your Future" Scholarship. The Scholarship is awarded annually to a student committed to pursuing a career in the electrical trade.
"I have always loved electricity and understand a lot about it. My grandpa was an electrician for 30+ years and I have many friends who have had family members be electricians. They said with my enthusiasm and knowledge it's a great field to go into and it is one of my biggest passions," wrote Wilson in his scholarship application. "I loved spending the last four years being the electrical team leader, wiring a trailer, wiring for different electric cars and learning how all the different technology works together in the Cougar Electric Car Program at my school."
In addition to being active in Kennedy's Electric Car Program, Noah participated in theatre tech, show choir, show choir tech, orchestra, bowling, baseball and the Homerun for Hunger initiative. Noah worked for the Cedar Rapids Kernels between 2011 and 2021 and is currently employed at Cedar Rapids Bowling Center and helps at the Grant Wood Area Education Association's College for Kids.
The $1,000 Power Your Future Scholarship was presented to Noah at Kennedy's Senior Recognition Night on April 25.
The Power Your Future Scholarship was established in 2019 in recognition of Barry Boyer's more than 25 years of leadership and service to Van Meter Inc., a wholesale electrical and automation supply company with 25 locations across seven U.S. states, to encourage and support students pursuing a career in the electrical trade—an area hit hard by skilled workforce shortages.
According to the U.S. Bureau of Labor Statistics, electrician jobs are expected to grow by more than nine percent from 2020 to 2030—especially in the construction field. This outpaces the growth rate projected for all other occupations and is compounded by the fact that not enough people are entering the electrical trade in comparison to the number leaving to pursue careers in other fields or to retire.
"The challenge is real across the nation and right here in our backyard. We need more young people going into the trades," said Barry Boyer, retired President and CEO and former board chair at Van Meter. "This scholarship program is one way Gilda and I, and the employee-owners at Van Meter can help."
Many companies and trade organizations offer students paid apprenticeship or training opportunities right out of high school. The Power Your Future Scholarship is designed to set apprentices up for success by helping fund ancillary expenses like tools, steel toe boots, outerwear and other applicable fees.
To be eligible for a Power Your Future scholarship, a graduating high school student must be enrolled at Kennedy, Washington, Jefferson or Metro High School and show proof of going into an electrical apprenticeship program with the intention of becoming an electrician. The scholarship is managed and promoted by the Cedar Rapids Community Schools Foundation, which is responsible for vetting and selecting scholarship recipients.