Van Meter Expands Robotics Capabilities with Three New Supplier Partnerships
Industrial plants now have access to smarter, more flexible robotics solutions to enhance operational excellence in manufacturing.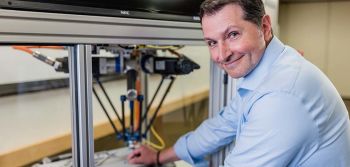 CEDAR RAPIDS, IA (08/09/2022)– Van Meter Inc., a 100-percent employee-owned electrical and automation distributor and solution provider is excited to announce new partnerships with three industry-leading robotics supplier partners: Comau, DENSO, and Doosan.
As OEMs and other industrial plants struggle through safety, productivity, and workforce management challenges, a 2022 study from Deloitte and The Manufacturing Institute indicates that companies of all sizes are increasingly turning to robotics and automation to stay productive and competitive.
"Our partnerships with these innovative robotics lines allow Van Meter to expand its automation offering so we can help our customers gain efficiency and transform how they work," said Mike Hermann, Vice President of Industrial Sales at Van Meter Inc. "Robotics have a wide range of applications that allow customers to meet their production goals, redirect workers to more meaningful tasks, and assign dangerous, repetitive, and high-precision plant floor tasks to robots that can handle them safely and consistently."
According to a Grand View Research study, the industrial robotics segment is expected to exhibit a compound annual growth rate (CAGR) of over 11 percent from 2021 to 2028, with growth attributed to a substantial increase in adoption of robots to carry out automation processes.
This recent expansion aligns with Van Meter's ongoing mission to help industrial manufacturers improve operational efficiency through smart, flexible manufacturing solutions that increase plant floor safety, boost plant floor productivity, and help workers make impacts in new ways.
Van Meter's comprehensive robotics solution offering helps industrial customers deploy innovative technology to meet growing consumer demands, stay competitive, and exceed their operational goals.
To learn more about these partnerships, please contact us.
---
About Van Meter | Headquartered in Cedar Rapids, Van Meter is an award-winning workplace and Iowa's largest distributor. The company sells more than 800 brands of electrical and mechanical products to contractor, industrial and commercial customers nationwide, as well as internationally. Van Meter's offering encompasses lighting, data communications, utility, automation, power transmission, renewable energy, core electrical components and more. To learn more about Van Meter, visit www.vanmeterinc.com.
---
About Comau | Comau, a member of Stellantis, is a worldwide leader in delivering advanced industrial automation products and systems. With over 45 years of experience and a strong presence within every major industrial country, Comau is helping manufacturers of all sizes in almost every industry experience higher quality, increased productivity, faster time to market, and lower overall costs. Headquartered in Turin, Italy, Comau has an international network of seven innovation centers, five digital hubs, and eight manufacturing plants that span 14 countries and employ more than 9,000 people. For more information, visit www.comau.com.
---
About Denso | As one of the world's largest automotive parts manufacturers, DENSO has been a leader and pioneer in manufacturing automation, including the design and manufacturing of industrial robot arms, since the 1960s. DENSO is also the world's largest user of small assembly robots, from 4-axis SCARA robots to 5- and 6-axis articulated robots. More than 27,000 DENSO small industrial robots are employed in the company's own manufacturing facilities, and more than 143,000 additional DENSO small industrial robots are used by other companies worldwide. Learn more at www.densorobotics.com.
---
About Doosan | Doosan Robotics, founded in 2015 by Doosan Group, creates technology for the next generation of manufacturing. Established in 1896, Doosan Group is one of the oldest and largest companies in South Korea, specializing in machinery, plant engineering, and component materials. The group has 25 affiliates and 114 global entities worldwide, generating a revenue of $15 billion in 2020. More information about Doosan Robotics is available at www.doosanrobotics.com/en/.