Frontline Support Keeps Automation Systems Running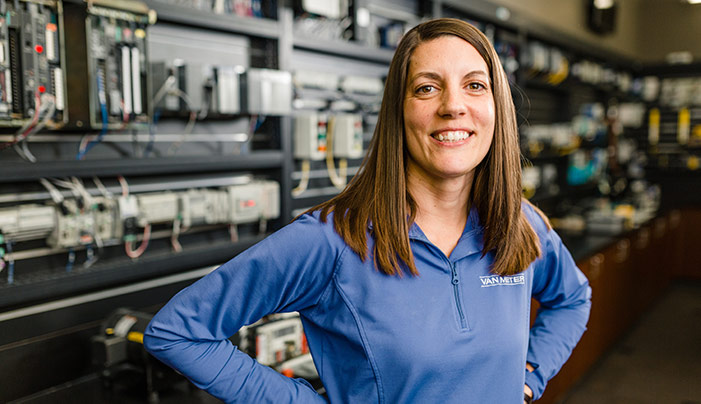 When something goes wrong with your industrial automation system, do you have a plan? Do you know where to turn? Do you know how to obtain the software upgrades you need to keep systems communicating seamlessly with no downtime?
A support contract can ensure that you receive assistance right away, maintain business continuity, and avoid the steep fees associated with making a one-time support call or request for help.
Van Meter's automation team is filled with experts who are ready to answer your questions. But if you're faced with a problem that needs more attention, we can help you secure frontline support for assistance any time of day.
Keeping Current: Everything you need to know about TechConnect with Melissa Siebels
Rockwell Automation's TechConnect support resource serves as insurance for your automation equipment and software by helping you and your staff:
Update software as soon as a new version is available so programs continue to run smoothly and securely
Gain access to real-time Rockwell Automation phone support
Receive help with equipment and software installation, configuration, and maintenance
Diagnose and address problems
Perform basic programming tasks
TechConnect can be customized to meet your needs, staff requirements, and budget. High-level support is available if you want to work with a single, knowledgeable engineer from start to finish on your case, need a dedicated support number and email address to use, or desire remote monitoring and alarm services. In most cases, however, these two basic support packages cover the needs of Van Meter customers:
Self-Assist

Access to any and all equipment and software upgrades
World-class Rockwell Automation support via email and/or chat
Access to Knowledgebase, an online resource full of technical information to help you quickly find answers to common questions

Product Support

(select between Monday through Friday, 8am to 5pm, or 24/7/365 to support 2nd or 3rd shift employees)

Access to software upgrades
World-class real-time Rockwell Automation phone support
On-demand Genius technical training webinars
Training Advisor: An online assessment tool designed to help determine the knowledge of your workforce to build a tailored training plan.
TechConnect support agreements are renewable annually or every three years – and you never have to worry about being caught without coverage. Van Meter will let you know in advance before your contract expires.
To learn more about the benefits of having insurance for your automation equipment and software through TechConnect, call us at 800-247-1410.