Solar Energy Tax Credits Cut Project Cost In Half
CLIENT: KING'S MATERIAL INC. | LOCATION: CEDAR RAPIDS, IA
King's Material Inc. literally provides the building blocks for builders and landscapers to create amazing places and spaces. Recently, King's was looking to transform one of its own spaces, a rooftop, into a solar energy asset. It asked the renewable energy experts at SiteGen Solar and Van Meter Inc. to pave the way.
CHALLENGE
With utility costs on the rise and major solar energy tax credits available, King's Material Vice President of Block Operations, Patrick Sauter, wanted to know if going solar was the right move. "SiteGen and Van Meter investigated all of our locations and laid out for us where this might make sense," said Sauter. "They were honest if there was a site that wasn't going to make financial sense for us."
"We take some time at the beginning to understand exactly what the project goals are," said SiteGen Solar President, Tyler Olson. "There are a lot of different ways that you can put a project together, and we want to make sure we do it in a way that meets the customer's goals and provides them with the best return on their investment."
Once it was determined that King's Cedar Rapids, IA, 12th Ave. location could benefit from harnessing solar energy, SiteGen and Van Meter went to work developing a solution to the next challenge — installing solar panels without penetrating the roof.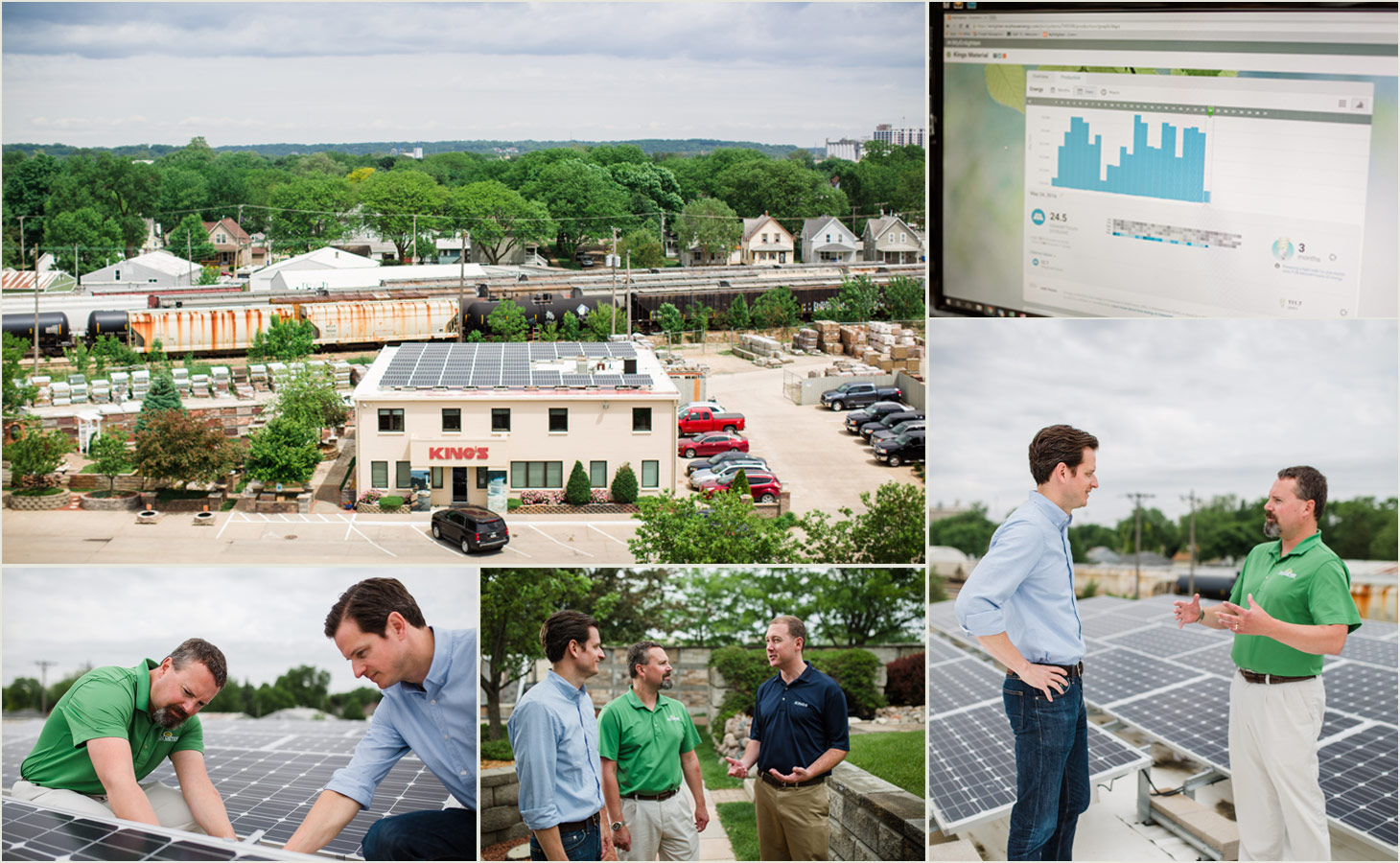 SOLUTION
Van Meter Renewable Energy Project Manager, Brad Duggan, had the answer — a ballasted, roof-mount racking system from AET (Applied Energy Technologies).
"We didn't want to have any roof penetrations because of the possibility of leaking," said Duggan. "So this system allows us to put the solar on the roof without having to penetrate to fasten the system down." Duggan's product knowledge is just one of the reasons Olson sees tremendous value in working with Van Meter.
DID YOU KNOW?
Solar accounted for 64 percent of all new electric generating capacity to come online in the U.S. in the first quarter, 2016.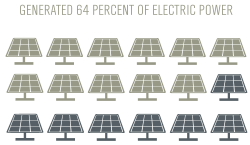 According to seia.org/smi
"Van Meter has been a great partner to SiteGen Solar for many years," said Olson. "We count on them for their expertise with the material. We count on them to have it available, and we count on them to deliver it at great value. So it was an easy decision for us to partner with Van Meter on this project as we have on lots of other projects."
Van Meter also outfitted the project with SolarWorld modules and Enphase microinverters. Both products come with generous 25-year warranties. SolarWorld is the oldest solar manufacturer in the world," said Duggan. "They have modules out in the field still performing that are 38 years old."
SiteGen wanted to incorporate microinverters to increase energy production, knowing the roof could be shaded during parts of the day. "We designed it with microinverters in order to make sure it produced to the max," Olson said. "They wanted to turn as much of the roof as possible into a performing asset, an asset that would result in a return on their investment."
That's exactly what they got.
THE RESULT
Working together, SiteGen and Van Meter were able to turn a 22,680-watt project into a sound investment for the customer. With a 30 percent federal solar energy tax credit as well as an 18 percent credit at the state level, King's Material was nearly able to cut the cost of the project in half. And with just an 8.5-year payback, it won't be long before the savings really add up.
"The customer is looking at about an eight-year payback," said Duggan. "That's on a system that has a 25-year warranty and should really last for about 30 years. So even after the project is paid for, they're going to have 17 years of free power while the system is still under warranty." This means saving at least $56,000 in utility costs.
"We're already seeing savings on our electric bill," noted Sauter. "We're saving about a third on our usage on average."
"We've got a couple other locations that we're planning to install solar at as well," Sauter explained. "You absolutely should investigate it. Each location is a little different, but with the incentives that are out there and the expertise that Van Meter and SiteGen brought to us, it takes almost no effort to at least look into it."
"We're already seeing savings on our electric bill. We're saving about a third on our usage on average."
- Patrick Sauter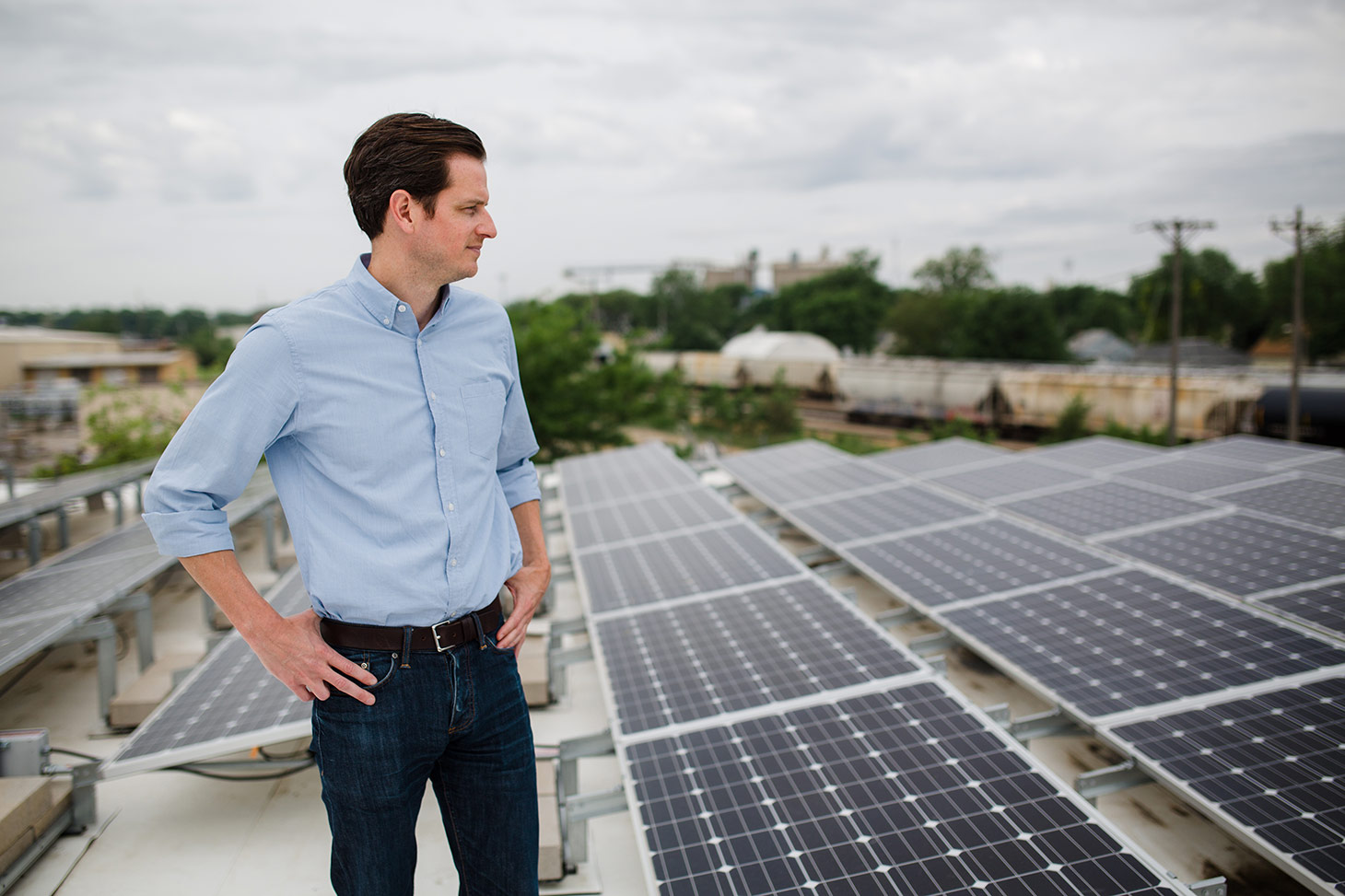 YOUR SOLAR ENERGY EXPERTS
Van Meter Inc. provides expert advice in the selection and design of solar energy solutions and more. We welcome your call to discuss your next project. To speak with a Van Meter representative, call 1-800-247-1410. We'll quickly connect you with the person or information you need.
---
King's Material started doing business in 1882 as a plaster mill on the Cedar River. Today, the company has eight locations throughout Iowa that manufacture a variety of concrete, brick, and stone building materials for residential and commercial projects.
SiteGen Solar is a subsidiary of Paulson Electric. It develops, designs, and installs commercial and residential solar projects that help customers achieve environmentally-friendly, cost-effective results.