Teamwork Makes the Dream Work: Grow Your Career At Van Meter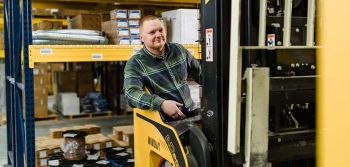 The most successful teams work hard together, not for one person to shine but for the whole team to reach its goals. At Van Meter, our operations employee-owners find that working together, helping and encouraging each other makes work fun and helps us reach our goals. When coupled with opportunities for career advancement and the support of leadership, learn how Van Meter's teamwork can help make your dreams work.
You are valued
Chris Hirtler, distribution center team member in Cottage Grove, quickly learned that Van Meter's atmosphere is different than other places he has worked. "Van Meter feels very inclusive. Everybody is part of one team. At places I worked previously, you did not feel like you were part of the company or even part of anything. It feels like family here. Everyone feels very connected and close."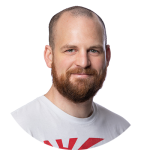 "Van Meter feels very inclusive. Everybody is part of one team. "

– Chris H.
Distribution Team Member, Cottage Grove
Porter Root, a delivery driver team lead in Kansas City, also noticed the family atmosphere. "What I like about Van Meter is they treat you as if you are part of a family," he said. "I have never worked anywhere where you are treated so well. It is such a great work environment. Everyone here is amazing."
Grant Kassing, a regional distribution center team member from Kansas City, noticed the efforts of fellow employee-owners right away. "When I first started working here, everyone came up and introduced themselves," he said. "I think it is really important to go up and make the effort." He has embraced the culture and it inspired him to welcome the next new person in the same way.
You have opportunities to grow
Root, who started as a distribution center team member, has already had an opportunity to move up within Van Meter. He was promoted to delivery driver team lead within his first year. "I want to move up as much as possible. Van Meter is definitely a place where if you work hard and show that you want it, you will have the opportunity to move up," he said.
Kassing, who has worked in warehouses at other companies, chose Van Meter because there is room to grow. He hopes to earn a leadership role as he continues his career at Van Meter. Kassing knows his work ethic does not go unnoticed. "There is a lot of room to grow and more opportunities in leadership here," he said.
You are part of a team
All three employee-owners credit teamwork for getting the job done each day and creating a mindset of continuous improvement.
Hirtler cross-trained in a variety of roles throughout the warehouse, which allowed him to build relationships across teams and gave him a wider perspective of company goals and the overall operation. He said teams also build rapport with a little bit of friendly competition.
"Some of us have an unspoken competition of who can pick more, so you are always competing against everyone else and yourself. You are constantly trying to increase your own performance to see how much better you can do," he said.
Root said, "In Kansas City we like to help wherever it is needed. A pipe guy might help with warehouse picks. We all work together to get out on-time."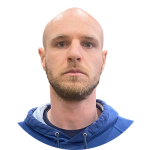 "It is a collaborative effort here."

– Grant K.
Regional Distribution Center Team Member, Kansas City
Kassing finds that collaboration is key to improving the work environment and that leadership is open to suggestions to improve work processes. "It is a collaborative effort here," he said. "If we have something we think might make our day-to-day processes go a little smoother, we can run it by our managers. They might say, 'yeah, that's a great idea, let's try it out.'"
Your leadership supports you
Kassing has good rapport with his team leader. He appreciates when feedback extends beyond suggestions for improvement and points out ways he is making a positive impact. "My leader is good at giving feedback," he said. "He recently told me something I had been doing well. I did not realize I was making that big of a difference. He pulled me aside and told me 'good job.'"
Root finds that Van Meter leadership excels at helping employee-owners feel like they are part of the team and an important part of the company. He said, "One thing Van Meter does well is make you feel valued as an employee. I did not find that in my other jobs."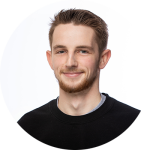 "One thing Van Meter does well is make you feel valued as an employee."

– Porter R.
Delivery Driver Team Lead, Kansas City
Join our team
Do you want to work in a team environment where you are encouraged to excel and grow your skills? Check out our careers page to learn more.