Three Big Findings From Our Production Systems Technology Survey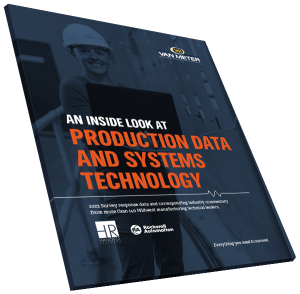 How manufacturers say they're using production data to improve manufacturing processes
As automation and data take center stage, the work manufacturers do—and the way they do it—is changing.
To find out, Van Meter surveyed more than 140 technical leaders across the country—and then created a research report to share what we learned.
These are some of the most critical highlights from our survey. To get the complete picture and see how your smart manufacturing journey compares, download the full report.
1. Plants Need to Focus on Collecting the Right Data
Plants don't need to generate more data—they need to collect the right data to help them make better decisions.
While most surveyed organizations do well with collecting data about production quality, cost and performance, there's room for growth when it comes to capturing compliance, health, batch and alarm information to improve uptime and productivity.
2. Most Manufacturers Track Data on Paper and Digitally
Roughly half of manufacturers still collect data in a hodgepodge manner, using a combination of paper and digital formats. Only one-third use primarily digital data-collection formats.
When information lives in multiple places—and in multiple formats—it creates more data siloes that make it difficult for production leaders to make well-informed decisions.
3. 75% of Manufacturers Struggle with Current Systems Technologies
When it comes to pain points with current systems, nearly three-quarters of manufacturers have struggles. A lack of support from their system provider is their number one concern.
"If you need a certain level of vendor support, that should be at the top of your priority list when choosing new production system technology," advises Jackie LaFleur, smart manufacturing business manager at Van Meter. "And be sure to make that determination before you invest in a system."
Benchmark your Smart Manufacturing Journey
To get an inside look at what manufacturing and production leaders have to say about their production data and systems technology, download our full report.
These insights will help you benchmark your smart manufacturing journey, understand where you may be ahead of your competitors or falling behind, and make the case to leadership when improvements are needed to maintain a competitive edge.
Do more with data
Download The Production Systems Technology Report
Manufacturers have access to more data than ever before, but simply having more data doesn't solve manufacturing challenges. Do you know what types of data other manufacturers are collecting? How do they collect and record data, and what do they use it for? What challenges do they anticipate in the future?
To find out, we surveyed more than 140 technical leaders across the country, and created this report. Here are some of the highlights:
Most manufacturers are still tracking data on paper and digitally
98% use manufacturing data to improve production performance
75% struggle with current systems technologies
Only 54% of have a cybersecurity response plan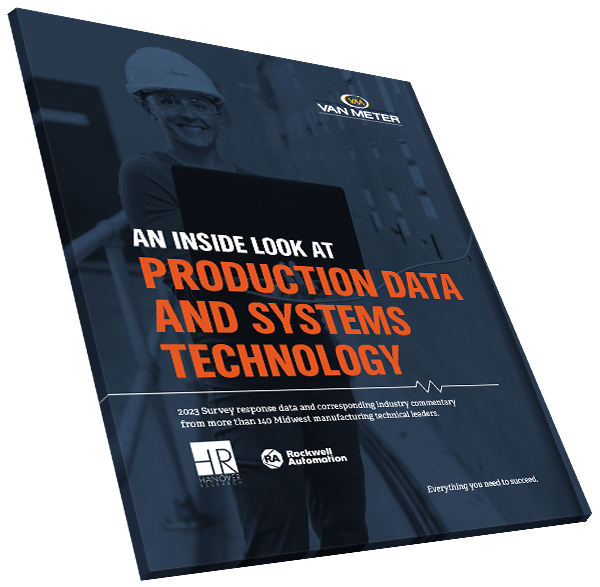 ×