Traveling the Country as a Lean Construction Coordinator
From the ocean to old battle fields, Jared Downing, Lean Construction Coordinator at Van Meter, has explored the country, while working on construction jobsites. In the past two years, he has worked at three different jobsites and learned a lot along the way. Learn more about where he is now, his role and his typical day below.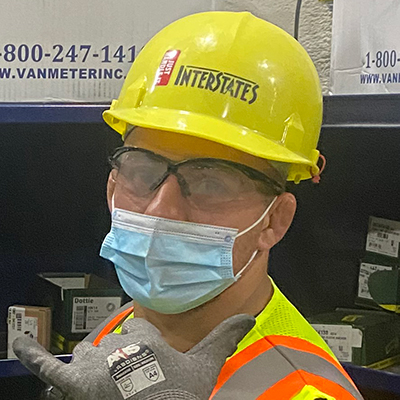 Jared Downing
Lean Construction Coordinator
Current Location: Pittston, PA
Jobsite: Newly built aluminum can factory for Ball Corp
What are you doing currently?
Currently I am in Pittston PA, working on a newly built aluminum can factory for Ball Corp. I have been here for two months and plan to be here for another eight months.
What were you doing before?
Over the past two years as a Lean Construction Coordinator, I have worked at three different jobsites and each one has been a little different. Each site has their own obstacles, but I felt empowered to overcome the challenges to help our customers get the results they expect.
What is your favorite part of your role?
There is always something new each day (even hour by hour)! I enjoy the change of pace and change of work. I also appreciate being able to travel and see new parts of the country. And my family enjoys traveling and exploring the places I work as well! We have had the opportunity to explore many sites from the ocean to old battle fields from American history.
What is one thing you've learned while in this role?
It has been eye opening to work in different parts of the country and with many different types of people. I enjoy learning and watching the way people work, both on and off the jobsite. I've learned a lot from each jobsite and made changes in my role because of those experiences.
What made you interested in this job?
I knew a few employee-owners that spoke highly of Van Meter. I came from jobs where no matter how hard an employee worked, the person was not valued or appreciated. I don't feel this at Van Meter because of our culture and ownership mindset.
What does your typical day look like?
My day starts at 6:30 AM. I show up to take care of all safety procedures before our daily safety meeting at 7:00 AM. Following our safety meeting, we do our PJHA's (Pre-Job Hazard Analysis) and stretches. Then, we make rounds with all of the foremen to see if we can get a head start on bringing them the material that their crew will be needing for the day.
During a "typical day" we are unloading and checking in material from delivery trucks, making sure the teams have the material needed to complete their tasks, and keeping our workspace clean and safe (during our downtime). Typically, we are handling heavy material so operating a variety of forklifts and equipment is a large part of our work. My workday ends arounds 5:30 PM. I take a last look around to make sure our work site is prepared for the next day – usually this includes staging material that will be needed right away in the morning.
What do you enjoy about working for Van Meter?
Working for Van Meter is unreal. Many companies may say they appreciate and take care of their employees, but Van Meter is the first I found that I feel like truly does. The number of happy employee-owners shows what kind of company we are. Besides a good work environment, the benefits are fantastic.
Last words?
It is uncommon to work for a company with a great culture where you are valued and encouraged to appreciate life. In addition, the company invests in my future and I know a retirement is possible in this day and age. Van Meter has gone above and beyond for me and I am so thankful.
-Jared Downing