Soldier On: Van Meter Vets Share Their Stories
What is life's next chapter for military veterans around the nation who return home after serving our country? For some, the process between deployment and employment involves readjustments to find the right career fit where they can find their purpose outside of the service. For others, they find that fit at Van Meter.
We've all heard the phrase "soldier on." It means to do and achieve, even when it's difficult. For those who have proudly served in the military – that phrase takes new meaning during the transition from deployment to employment.
Today, veterans account for about eight percent of the civilian population, according to the U.S. Department of Labor. It's an eight percent that shares the unique experience of serving, equipped with skills and knowledge only gained when your lifestyle and career are so deeply intertwined.
While veterans share in their service to our country, each and every story and path to success is unique. With 14 locations across the Midwest, Van Meter has more than 28 veteran employees. We caught up with three of them to hear their stories.
ALEX SINDELAR | ARMY CAPTAIN | AUTOMATION SUPPORT SUPERVISOR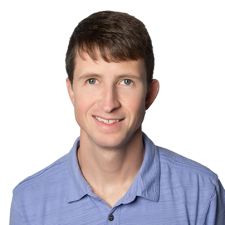 The year was 2006, and Alex Sindelar had just returned from his second Iraqi deployment. While he was on home soil, his schedule wasn't slowing down. Following his two deployments, Sindelar was pursuing a degree full time and clocking some night shift hours. He was also renovating a house in his limited spare time.
"I had come back from deployment, and I needed some hours that worked with school," Sindelar said. "Van Meter had a good reputation, so I applied. What I didn't know then was that I would end up staying with the company for my career."
Sindelar was eager to learn and quickly became involved and interested in the construction and engineering elements of the electrical distribution business. He continued working his way up, getting into the automation support role.
In a blink of an eye, seven years had passed. However, change was on the horizon – including a third deployment to Kuwait.
"I remember having to notify my boss about the deployment," Sindelar said. "The support was overwhelming. My team really outdid themselves with ongoing communication to make the transition easier."
The support and open lines of communication continued between Sindelar and his Van Meter team while he was overseas. And this time, he was able to utilize the skills he had learned on the job at Van Meter to serve his country.
Leadership that translates
"I was in more of a leadership position as an officer and in charge of a platoon of 30 people," he said. "We happened to do a lot of electrical work. So, my job roles and responsibilities really translated. I was helping with the construction and building of entire base camps. In total, we went from a few tents to 12 completed buildings by the time we left."
Throughout his deployment, the support Sindelar received from his Van Meter team kept him going.
"The emotional support was huge. They sent care packages. They checked in," Sindelar said. "You just knew they cared."
The transition home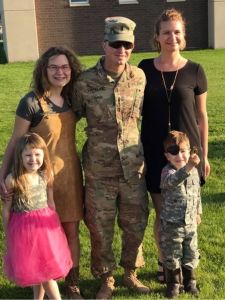 After a year in Kuwait, Sindelar returned home in 2017 and was able to pick up where he left off at Van Meter.
"Van Meter was very receptive in welcoming me back," he said. "They even surprised me by working with my wife to buy me a bike as a welcome back gift."
Sindelar ended up riding that bike in Iowa's RAGBRAI bicycle race the following year. He said the team mentality where everyone moves towards a goal together is something that stuck out to him about Van Meter's culture.
"The ability to follow through and be dependable are two big things," he said. "That's the mentality at Van Meter."
HAYDER SALEHOGLU | U.S. NAVY LIEUTENANT | NATIONAL ACCOUNTS MATRIX ANALYST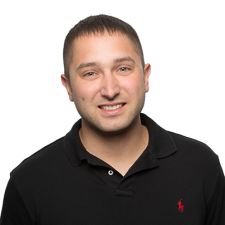 Sometimes a nudge from a friend is all it takes. That was the case for Hayder Salehoglu back in 2008.
On top of serving in the U.S. Navy, he was a busy college student when a buddy mentioned that he should apply to work at the Van Meter warehouse.
"I decided to give it a shot, and to my surprise – I was actually interviewed by a fellow veteran," Salehoglu said. "That was a good sign to me. I heard they were a solid company with flexibility, and that's what I needed."
He began working in the Cedar Rapids, Iowa location in 2008, the year historic flooding in the community occurred, and it showed him how the culture banded together. Just two years later, he graduated from college and was called for deployment to Iraq.
Over the course of 10 years, he was promoted to the National Accounts team and completed a second deployment to Iraq, as well as a mission most recently to eastern Africa. Today, he's still a proud member of the Van Meter team. He says it's all about support.
"Van Meter stepped up and supported me in ways they didn't have to, basically going above and beyond," Salehoglu said. "They still allowed me to contribute while I was away, and they were extremely flexible throughout different trainings and schoolings completed while I was an active officer in the Navy."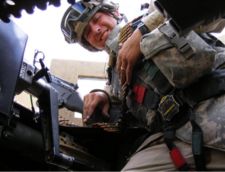 During his deployments, Salehoglu felt like the job skills he learned at Van Meter set him apart.
"The analytical and logistical skills that I developed at Van Meter were applicable during my deployment. In fact, my unit had to coordinate, calculate and make various forecasts, and many of my civilian skillsets made me stand out."
The puzzle of civilian life
"When you return from deployment, you have to figure out how you fit back into the puzzle of civilian life. I'm forever grateful for the flood of support I received from my team," Salehoglu said. "Van Meter is more than an electrical supplier; Van Meter is a family that cares."
Salehoglu mentioned that he understands how unique this culture is. He wished all veterans had an organization like Van Meter to have their back and help them find purpose.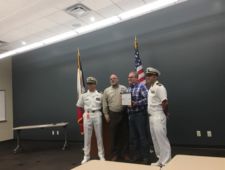 "Here, I have never felt like my potential has been compromised because of my service. I have never felt like a nuisance," he said. "They're proud to have veterans on the team – and I'm proud to be on this team."
Salehoglu felt so empowered that he nominated his manager at the time, Jason Alt, to receive the Patriot Award in the fall of 2018.
"When you know you have purpose the minute you get back from deployment, that is huge," Salehoglu said.
The meaning of employee-owned
Another big differentiator to Salehoglu is the employee-ownership aspect of Van Meter.
"To me, employee-ownership means we're all in this together," he said. "We're in charge of our future."
And for Salehoglu, he feels his future is certain.
"I started my career here," he said. "All I really know is Van Meter and the U.S. Navy. And I don't want to know any other company out there. This is where I plan to retire."
ANDREW JENSEN | U.S. ARMY, AIR NATIONAL GUARD | WAREHOUSE SUPERVISOR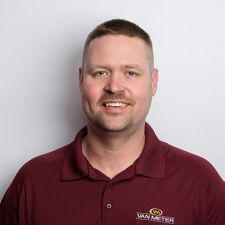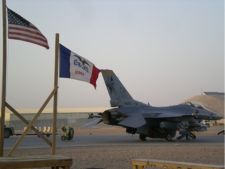 Growing up, Andrew Jensen knew the military was his calling.
"Ever since I was little, I knew I wanted to be in the military," Jensen said. "It's just something I always wanted to do. And it's something that when I was out of it, I missed."
"Jensen served in the active duty Army from 1996 to 2002. Then, he joined the National Guard from 2002 to 2005. Jensen currently serves in the Air National Guard helping organize Test Iowa sites to assist with the National Guard's COVID-19 response. He is also a warehouse supervisor for Van Meter and has been an employee-owner for over nine years.
Finding the right fit
"Before I got deployed, I was working for a trucking company," Jensen said. "When I got home, I was looking for something new and thought I'd give Van Meter a try."
"It didn't take him long to embrace the culture that makes Van Meter so unique."
"Van Meter's culture is inclusive and built on trust, "Jensen said. "There are other veterans on my team – we share a bond there, and we're definitely able to use our skillsets to move the whole team forward."
"Jensen feels that his skills forged from the military translated to his position post-deployment."
"There are a lot of behind-the-scenes skills that you learn in the military that many people don't realize," he said. "The logistics of knowing the plan forwards and backwards, and always thinking ahead is critical. Today, I teach my team that we need to always be thinking six months ahead."
The value of strong leadership
"Assembling a team of the best and giving them the autonomy to do their job is at the heart of Van Meter and what Jensen thinks sets apart good leaders from great leaders.
"There's this idea that 'if you're the smartest one in the room, you're not a good leader,' and I think that's something that is very important here. The leader's role is to compile everyone's ideas and bring continuity," Jensen said. "And when you have veterans working at a company, you start to feel their team mentality and the 'go out and get things done' attitude. That's a huge value when a company is 100 percent employee-owned."
"When asked about advice for veterans returning home and looking for work, Jensen stressed the importance of company culture.
"You have to look at the culture of a company," he said. "And you have to get out and network with people. Sometimes military experience is kind of underrated, and the training and discipline doesn't get used to its full potential. But you can find positions in the right kind of company where you are utilized."
Jensen said he is one of the lucky ones who found a company that just "clicked."
"I've been here for nine years, and I don't plan on going anywhere," Jensen said. "In fact, it's never even crossed my mind."
---
Everything You Need To Succeed.
Join Our Team Today