Wire Circuit Management Solutions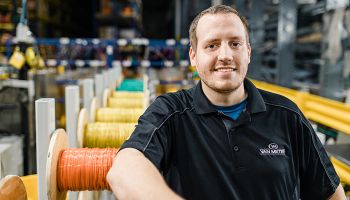 Van Meter has a variety of customized wire circuit management solutions for all your wire pulling needs.
Van Meter can help you be more efficient on the job with speed pulls - bundled multiple circuit conductors onto one reel. Each reel can have up to 45 circuit conductors and be custom labeled to give you one fast cable pull. With speed pulls, you'll achieve an easier installation and major labor savings with staggered lengths and unique identification printed directly onto the cables for quicker length verification.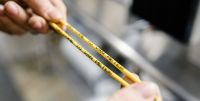 CUSTOM LABELING
Custom tagging markers (words, characters or sentences) can be printed in blue or black directly onto your wire every 1 to 6 inches. This is an ideal application for electronic cable, photovoltaic cable, building wire and more. If printing directly on cable isn't possible, wrap around labels are available. Save time and money on the job by removing the in-field labor of ringing cables and marking cable.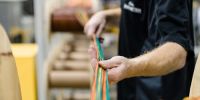 STAGGERED BUNDLES
Some wire pulls require breakouts at specific and various lengths and bundles at one or both ends. For this type of pull, staggered bundles are a perfect solution. Ideal for a variety of installations including photovoltaic (PV), electronic, build/fixture wires and cables, staggered bundles can have various specific lengths tails within a 1 inched tolerance per tail and can include pull tabs at each specific breakout or array. Custom labeling is available with staggered bundles as well.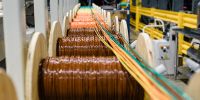 BUNDLES WITHIN BUNDLES/TAPE BUNDLES
Bundles within bundles, also known as tape bundles, provide faster completion of your wire pull with added labor savings and easier identification of cables and individual conductors for stress-free termination of all cables. The solution combines several reels being consolidated into one larger cable on one reel with easy to identify break out sub bundles. Customized pull tabs and printing allow for easy recognition when wires are being pulled from the same location and will separate at various junction points.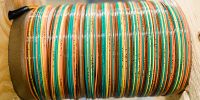 STACKED SPEED PULLS
When space is limited on your next jobsite, use stacked speed pulls for your wire pull. This service helps reduce the number of reels needed on a job and helps achieve maximum job site flow by combining multiple bundles on one reel. The bundles are separated by a material that protects each bundle and organizes the wire in the order of the install with the first to be pulled to the last to be pulled. This layered arrangement can have various lengths, gauges and wire types to fit your wire pull.
Whatever your need, Van Meter has the wire and cable solution for the job — everything from aluminum and copper to specialty wire. Paired with our feeder and circuit management services, we can keep you competitive on the job.