Five Reasons To Use Cloud Manufacturing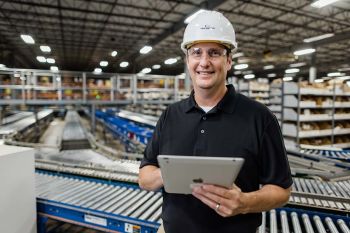 Many areas of our day-to-day business operate in the cloud. Think of how you access your paystubs and benefits information or how you communicate and share information via services like Zoom or Microsoft Teams. If operating in the cloud can make other business functions easier, can it also improve manufacturing processes? Here are five reasons to use cloud manufacturing.
1. QUICKLY SCALE YOUR OPERATIONS
Software as a Service (SaaS), or software accessed via the cloud, has several advantages, including the ability to quickly scale the size of your operations. With an on-premise system, expanding your capabilities may require downloading additional software and licenses, installing the software and adding additional server infrastructure. Keeping the software current with patching and updates is your responsibility to minimize cybersecurity risks, where cloud software is continually updated without interruption by the provider. In some cases, updating software or modifying programs requires being on-site.
With SaaS, there are no downloads, and you can access your plant and your programs from anywhere in the world. Without having to download software, it is easier and quicker to trial new applications and discover solutions that quickly provide value. Instead of purchasing a one-time download for something that may not necessarily be a software program that benefits your business, you can pay for cloud services on a subscription basis and adjust your services as demand increases or decreases.
If you test software on a small-scale application and find something that enhances your business, you can quickly apply that solution to other areas of the plant or other plants entirely without having to download more software or travel to other locations to implement the solution. Because software is based in the cloud, you can add users and compute power without additional infrastructure.
2. SECURE YOUR DATA
Manufacturing has traditionally tried to isolate the Operational Technology (OT) network from the outside world due to cybersecurity risks, but operating from the cloud doesn't add risk. With an on-premises system, updating software requires connecting to the internet inside the plant, and anyone who connects inside the plant without proper firewalls and multi-factor authentication can unknowingly expose your network data.
With SaaS, software updates are done by the cloud provider, meaning manufacturers can benefit from the provider's security measures rather than implementing their own. Almost all data is 256-bit encrypted, which is the same standard the U.S. government uses for sensitive data, and accessing the cloud also requires multi-factor authentication with two forms of access. Data is not stored locally, so there is nothing for the user to maintain.
3. TAKE ADVANTAGE OF ENHANCEMENTS AND UPDATES
There is a saying that 'two heads are better than one.' Well, how about 3,000 or more? With SaaS, you can take advantage of improvements from everyone who uses the service. Fiix, for example, is a cloud-based Computerized Maintenance Management System (CMMS) with over 3,000 customers on the platform.
If one customer identifies an enhancement for the software, everyone on the platform can take advantage of it right away. The same goes for bugs or issues with the software. There are thousands of users who can catch problems, so they are reported and resolved very quickly.
With an on-premises system, manufacturers are responsible for updates, and updating software, which generally requires shutting down production. With SaaS, the cloud provider is responsible for updates. Updates are done in the background, so there is no required downtime, and you're always updated to the latest version of the software.
4. UTILIZE LIVE DATA
Manually recording and storing data is not an efficient use of your time and resources. Whether it's monitoring production quality or using runtime data to perform predictive maintenance, accessing real-time data and analysis in the cloud helps you make quicker, more informed decisions.
Use an Installed Base Evaluation (IBE) as an example. An IBE is an audit that identifies and locates all your industrial equipment, so you understand your biggest risks for downtime and document where your equipment is in its lifecycle. Traditionally, you would be given a PDF file with all the information from the audit, but that file becomes obsolete once you start adding or subtracting equipment.
In the cloud, there is a program called My Equipment. When you perform an IBE, that information gets loaded into the My Equipment portal where you can manage your list of devices and add or subtract equipment as you go. Instead of a one-time snapshot of your industrial equipment, it is a living cloud document you can use to stay up to date.
5. ACCESS THE LATEST APPLICATIONS
Operating in the cloud gives you access to the latest applications for your entire system lifecycle across design, operations and maintenance. For example, FactoryTalk Hub is Rockwell Automation's cloud-based solution for applications. With all your applications hosted and supported within FactoryTalk Hub, it provides a unified experience for you and your team.
What kind of applications can you access in FactoryTalk Hub? Studio5000 Logix Designer allows you to log into the cloud and modify PLC logic from anywhere in the world. Plex Manufacturing Execution System (MES) allows you to digitally manage your production records to increase accuracy, quality and throughput. Fiix CMMS helps you schedule preventative maintenance based on performance data. All three operate in different areas of your business, but all three (and more!) can be accessed within FactoryTalk Hub in the cloud.
HOW TO GET STARTED WITH CLOUD MANUFACTURING
How do you get started using the cloud? It's best to start in an area that's not directly tied to your manufacturing to gain understanding and see the benefits. It might be something that supports your manufacturing, but it's best to get your comfort level up in a non-critical area. If you have questions or need help getting started, fill out the form below with a description of your application, and an expert from our smart manufacturing team will help you out.
Contact Us
Fill out the form below and a Van Meter team member will reach out as soon as possible.
×
ARTICLE BY:
SCOTT LARSON
EMPLOYEE-OWNER, BUSINESS CONSULTANT