Now Offering: Southwire SIMpull Flange
Get rolling with Southwire's SIMpull Flange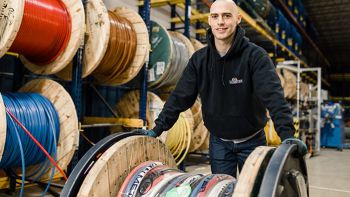 The Southwire SIMpull Flange is now available for purchase from Van Meter. When paired with Van Meter wire and cable solutions, the Southwire SIMpull Flange makes moving wire more efficient on the jobsite.
Moving, setting up, and paying off heavy wooden reels inside buildings or job sites can be extremely challenging, often requiring a tremendous amount of labor, equipment, tools, physical effort and time.
The SIMpull™ Flange's shaftless design, safely (on flat level floors) allows one person to turn a wooden reel up to 34 in. and 2000 lbs. into a time saving, field-installable solution that removes the need to handle heavy jack stands.
What is the SIMpull Flange?
FEATURES
Independently rotating flanges
Allows inner wooden reel to rotate freely
Shaftless design
Compatible with wooden reels up to 34 in.and 2000 lbs.
52 pound tare weight per Flange
Integral magnetic flange chocks
Will fit through 36 in. wide doorways when used with a 32 in. or smaller reel
Compatible with commercial & residential SIMpull® building wire products, parallels/stacks, portable cord, MV, and metal-clad cable
BENEFITS
Eliminates the need for jacks and arbor tube/conduit on compatible reel sizes
Significantly easier and safer to move reels throughout a jobsite
Allows reel to be placed right next to feed conduit/point
Can be reinstalled onto multiple reels throughout the course of the job
Designed to be installed in the field
Stand included for easy storage and maneuverability
Specifications
Diameter: 36 in.
Tare Weight: 52 lbs. per SIMpull™ Flange?
Arbor Hole: 3 in.
Minimum Reel Diameter: 22 in.
Maximum Reel Diameter: 34 in.
Minimum Reel Thickness: 5/8 in.
Maximum load capacity: 2,000 lbs.
*Patent Pending
More Resources
SIMpull Flange Step-by-Step Installation Guide
For more information about this product or Van Meter's full wire and cable offering, please contact your Van Meter sales representative for additional information at 1-800-247-1410.