Featured at 2021 Automation Fair: VR, Cybersecurity, and More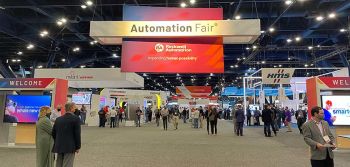 I've worked in safety and automation for years; attending Rockwell Automation's annual conference, Automation Fair is a tradition I've grown to look forward to every year.

After the hiatus on live events last year, it was fantastic to experience an in-person event again, connect with customers face to face, and see new technology in action from more than 100 exhibits.

This year, Automation Fair was held in Houston in November. While I was there, I uncovered four powerful technology trends you should know about. Given the events of the past 21+ months, these trends were driven by a focus on working safely—and working remotely. While some of this technology isn't new, it has taken on a different level of significance amid the pandemic.
1. The Use of Virtual, Augmented, and Mixed Reality
XR technology was front and center at this year's Automation Fair! An impressive virtual reality booth in the heart of the exhibit floor was one of the first things everyone saw when they entered.

Vuforia Chalk was showcased as a way to combine augmented reality with real-time video communication so field technicians can connect to offsite experts. With this platform, both parties can see and discuss a situation as it happens in real time. It's almost like having an expert waiting in the wings to guide technicians through step-by-step processes and answer questions as they perform complex tasks.

There were also opportunities to use RealWear technology to take virtual plant tours and experience how equipment and other components can be moved around in virtual environments to improve workplace safety, operational efficiency, and scalability.
2. Remote Connectivity and the Connected Enterprise
Connected enterprises use smart devices to bring all sorts of new opportunities to plants: faster and better decision-making, visibility into processes, improved productivity, and reduced risk. They unite plant-level and enterprise networks to connect people, processes, and technologies.

While connected enterprises have been discussed for a while, the pandemic shines a new light on the benefits they offer—especially in terms of how remote connectivity and the connected enterprise can help manufacturing processes continue even when workers can't physically be inside the plant.
3. The Importance of Cybersecurity
Along with conversations about connected enterprises naturally come discussions about cybersecurity, too. The more devices that connect to industrial networks, the more potential cyber risk plants take on.

A 2021 Manufacturing Data Risk Report reveals that the maturity level of cybersecurity in manufacturing lags behind other industries—even though it was the fifth most-targeted industry in 2020 (the average breach cost nearly $5 million).

Plants need their technology to not only automate processes and improve productivity, but also defend against threats. Safely managing industrial networks will protect valuable data and prevent manufacturing from coming to an unexpected halt.

Cisco security solutions were part of Automation Fair so attendees could learn more about minimizing risk while protecting physical and network assets, intellectual property, and system data.
4. The Continued Relevance of Robotics Technology
Robotics have been part of manufacturing for years to help automate repetitive tasks, reduce error, and allow people to refocus their efforts on strategic initiatives.

For several customers, however, discussions about robotics were still one of the biggest takeaways from Automation Fair. This year, the focus was on robotics integration throughout a plant—not just in piecemeal.

There was also emphasis on working safely with collaborative robots. Attendees had the opportunity to try out assisted lift technology, donning wearable robotic gear to safely manage heavy loads.
Get More Details
Although Automation Fair was held in person, an on-demand experience is also available through February 2022 if you missed it. You can watch show floor tours and participate in education sessions. And be sure to take advantage of the 30 percent discount of Learning+ to continue your learning all year round.

If you're interested in learning more about what I saw and learned at Automation Fair—including any of the trends I mentioned above—please reach out. I'd love to hear what you think!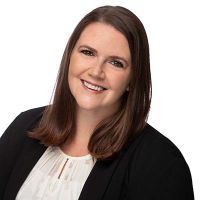 ARTICLE BY:
MICHELE SILVA
EMPLOYEE-OWNER, AUTOMATION SPECIALIST, SAFETY SERVICES
Silva has been in the industry since 2008. She joined Van Meter in 2021 as part of Werner Electric and provides safety and safety services solutions to customers