Electronic Data Interchange (EDI)
EDI accelerates purchase order, invoice, and receivables, and other processes by taking away the manual effort that is traditionally found in these areas. Allowing our systems to pass data between each other can save you countless hours that can be redirected to far more value-added areas of your business.
E-Catalog
Why worry about navigating through pages of irrelevant products when Van Meter can build a customized eCatalog for you? Formatted according to your specifications, this component of Van Meter's e-procurement services features part numbers (both ours and yours), descriptions and pricing for products you purchase most. Get exactly what you need, as quickly as possible.
Online Ordering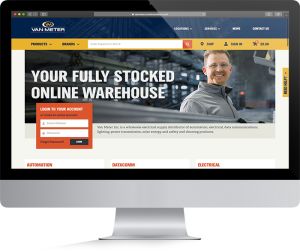 Van Meter created a secure e-procurement solution that lets you conduct crucial business whenever and wherever it's most convenient.
You can shop Van Meter from your desktop, tablet or mobile device any time day or night. This ordering solution offers far more than just online ordering. You get to shop real-time local electrical supply inventory online, build quotes for projects, place and track orders, and create product lists. Request a login today to begin accessing your account-specific information.
Everything You Need to Succeed
Talk to an employee-owner about how we can make a positively powerful impact on your business.