Electricians, What's in Your Truck (Part Five)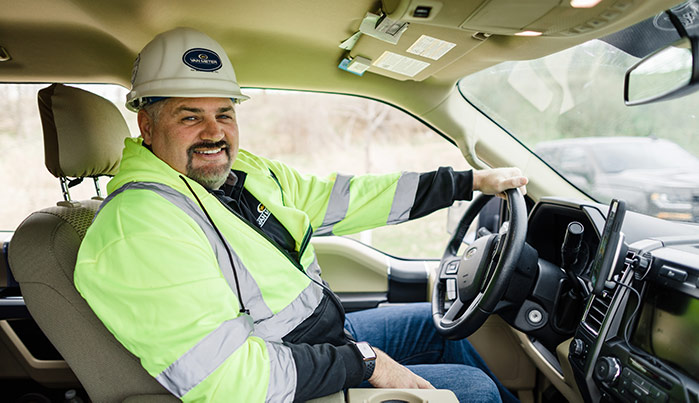 To keep you safe, save you money and allow you to get more done in a day, I'm sharing my recommendations on tools of the trade that are essential to keep in your truck through a series of blog posts. This is number five in the series, and I'm talking about tools for safely detecting voltage.
I worked as an electrician for 10 years before joining Van Meter in 2011, so I've dealt with my share of personal safety devices. I know they're sometimes overlooked, especially if you've been doing electrical work for years and are confident you know the ins and outs of the project you're working on. On busy jobsites, they can also be a hassle if you can't see or hear the alerts they emit.
But, at the end of the day, it's important to remember that you may be working around energized electrical components – even if you think you aren't. Non-contact voltage detectors are at the top of my list of tools you should always have with you (and always use!).
So let's find out … what's in my truck to quickly, reliably, and safely detect voltage? (And what should be in your truck, too!)
A Fast & Reliable Way to Detect Voltage
Before you start tampering with electrical systems, our No. 1 rule: Check for voltage!
What do you have in your truck now to safely detect voltage?
I always keep a FLIR VP50 Non-Contact Voltage Detector with me for a few reasons. First, it's compact and can go just about anywhere. It's always nearby when I need it. Built to prevent dropping, it has a double-molded, slip-resistant grip and an anti-roll case to keep it from falling off of a worksurface. But if you do let it slip through your fingers, it's drop-tested to 3 meters (9.8 feet). The tool will last for years.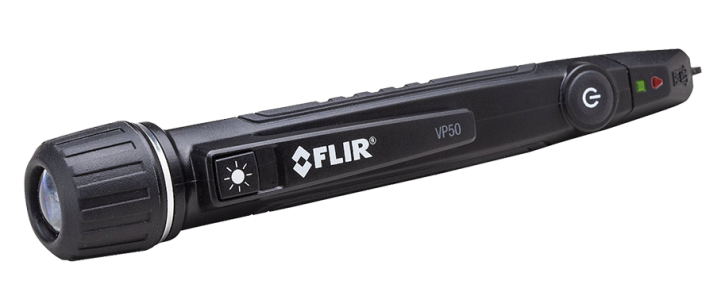 Testing voltage on busy jobsites out in full daylight can be a challenge – but the FLIR VP50 is up for it. For starters, a red LED light flashes when voltage is detected. This gives a visual warning about a hazard.
But if someone interrupts you, you look away, and you miss the flashing light, there's also a vibration alert. Even if the sun's in your eyes and there are loud tools running behind you, you'll still be able to "feel" whether there's voltage present.
A low-profile probe tip helps you safely get the tool's sensor closer to electrical sources than other non-contact voltage detectors for more dependable results.
It also incorporates a few additional features that I find handy. A powerful, built-in LED flashlight gives you light to work by – exactly where you need it – and reduces the number of tools you need with you. An integrated tip light lets you light up your test target in dark locations so you know where to place the probe tip for detection.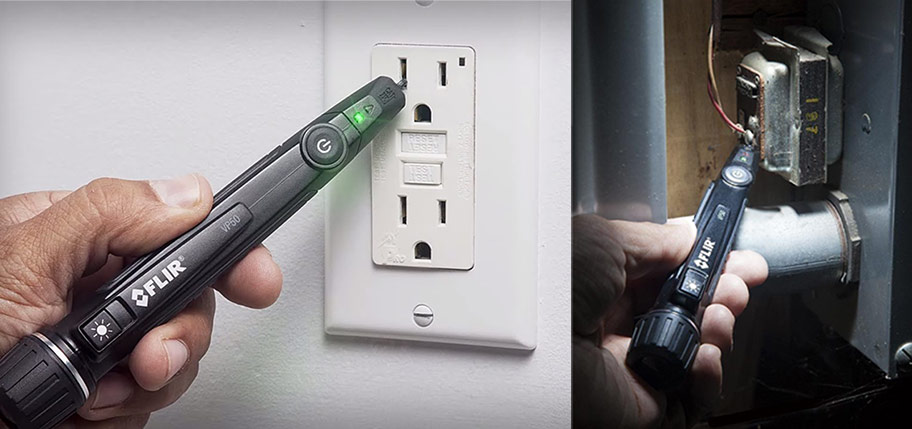 For reliable voltage detection on any outlet, high-powered equipment, or low-voltage system, you can switch between high and low sensitivity modes to ensure accuracy.
Simply put, I keep the FLIR VP50 Non-Contact Voltage Detector in my truck because it:
Is slip resistant, rugged, and designed for a long lifecycle (you can throw it in your glove compartment, put it in your pocket, or accidentally drop it – and it keeps working)
Works with any of today's electrical systems, regardless of type or voltage
Offers two voltage indicators: a flashing red LED and a strong vibration
Has other built-in features (like a flashlight) to reduce the number of tools you need
Does the FLIR VP50 Non-Contact Voltage Detector sound like something you want to keep in your truck? (Or do you want to try it out?) Van Meter's specialists can meet you in your office or on the jobsite to show you how it works. While we're there, we can tell you about customers who are using it – and what they think.
Video: FLIR VP50 Non-Contact Voltage Detector + Worklight Product
Want to learn about other tools I keep in my truck? (And the tools you should keep in your truck, too?) Check out these blogs (and don't miss the next one in the series, coming up soon!):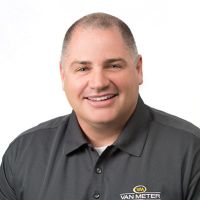 ARTICLE BY:
GARRY O'LEARY
EMPLOYEE-OWNER, CONTRACTOR SERVICES MANAGER
O'Leary joined Van Meter in 2011 and has more than 22 years in the jobsite safety industry.