Industrial Robots: A Workforce That Pays For Itself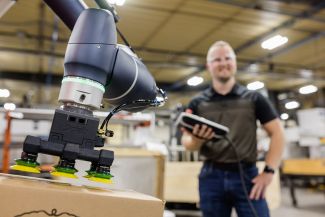 Wouldn't it be great if your workforce paid for itself? It's not as farfetched as it sounds. Of course, no person is going to work for free, but after the initial purchase, industrial robots will 'work' for several years with no additional cost. So, do industrial robots pay for themselves? How quickly will you see your return on investment (ROI)? Here are five factors to consider when determining whether industrial robots are worth the investment in your operation.
1. WHAT IS THE COST OF YOUR APPLICATION?
Not all industrial robotics systems are created equal, so the first step is to figure out what you want the robot to do and what you need to do it. One of the strengths of robots is that they are versatile and flexible in the tasks they can perform. Six-axis robots can be programmed to move in any direction, and you can install attachments and grippers to handle and manipulate many types of products. What kind of vision system do you need to guide the robot? Will you need to collect and store data on your network? There is also the cost of installing and integrating the robotics system. The robot itself is the major purchase, but there are other pieces to consider when figuring out the total cost of the system.
2. WHAT IS THE PAYROLL COST YOU ARE REPLACING?
If you are considering a new industrial robotics system, chances are there is currently a person doing the task you have in mind for the robot. Since you are either freeing that person up to do another task or replacing them, the first thing to look at is the amount they are getting paid. According to the U.S. Bureau of Labor Statistics, the average cost for an hour of labor in the Midwest is $25.78. Typically, one robot replaces the work of one person, but unlike humans, robots do not have limits on hours or require breaks. If your operation runs continuously for 24 hours, one robot is replacing three eight-hour shifts, and you are tripling your ROI.
Wages and salaries are not the only cost associated with a human workforce though. There is also insurance, training, taxes and other benefits, which adds another $11.53 per hour. Adding up the full yearly cost of each employee you are replacing and dividing by the cost of the full robotics system should give you an idea of how soon you will see your ROI.
3. WHAT IS THE POTENTIAL RISK [COST] YOU ARE REPLACING?
Wages and benefits are one cost, but using industrial robots lessens your potential risk too. Humans can pull muscles, get sick and become injured on the job, which is costly for employers. The average cost for a workers' compensation claim is around $40,000. There are also indirect costs associated with injuries and illnesses like OSHA fines, lost production, legal fees and even lower morale.
Robots are ideal for jobs that are dull, dirty and dangerous because they can work in conditions that are hazardous for humans without getting sick or suffering injuries. Robots can work in extreme temperatures, they can work around poisonous gases and they can work with sharp, cutting devices without risking injury. Using industrial robots to remove risk isn't just about lowering potential costs, it's about keeping your people safe.
4. WHAT IS THE EQUIPMENT COST YOU ARE REPLACING?
Humans are resourceful, but we often require simple machines like levers, pulleys and ramps to move heavy objects. Robots are stronger and more forceful than their human counterparts and do not require additional equipment. For example, think of an application where people are using a hoist system to assemble large frames. It's a long, tedious and difficult task that requires several people to perform. An industrial robot can take the frame and assemble it without any human intervention in a shorter amount of time. Now, the people who would be assembling the frames are free to add value elsewhere, the equipment for a hoist system isn't needed and your products are getting to market faster.
5. HOW MUCH ARE YOU REDUCING DOWNTIME AND MAINTENANCE?
In general, robots increase uptime in two ways. First, robots do not take breaks or vacations, and second, their production does not vary. This means they can produce more than a human (or three!) in a day's work. In addition, robots (like the ones manufactured by Van Meter's partners) are designed to perform for 5-10 years with no maintenance if implemented correctly. Unless programming changes need to be made, they should stay maintenance free. The average automotive manufacturer —for example— loses $22,000 per minute when the production line stops, and overall, unplanned downtime costs manufacturers $50 billion per year. Continued production and less maintenance is more money in your pocket, and improves your ROI.
ARE INDUSTRIAL ROBOTS WORTH THE INVESTMENT?
Not all operations and robotics systems are the same, but most manufacturers can expect to see a ROI anywhere from 10 months up to two years for most applications. Reach out to your account manager or one of Van Meter's smart machines and robotics experts to schedule a demo or discuss how industrial robots can improve your operation.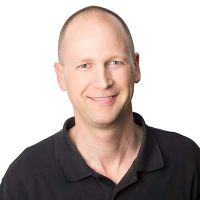 ARTICLE BY:
CHAD ENGELKES
EMPLOYEE-OWNER, TECHNICAL SPECIALIST - MECHATRONICS
Engelkes joined Van Meter in 1998 and has more than 21 years providing customers with automation solutions.