Electricians, What's in Your Truck (Part Nine)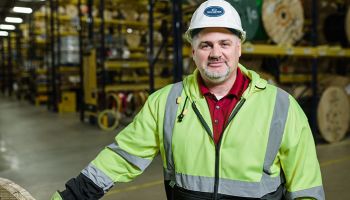 Over the past year, I've been giving you a look inside my personal truck – the tools I carry with me to make life as an electrician faster, safer, and easier. As a former journeyman electrician, I worked for nearly a decade in the field. I know first-hand that the tools you use can make or break your efficiency, productivity, and safety.
In our ninth installment of this ongoing "Electricians, What's in Your Truck?" blog series, I'm sharing my favorite powered fish tape solution.
So let's find out … what's in my truck to route wiring through conduit? (And what should be in your truck, too?)
Eliminate the Manual Work of Pulling Wire
Fish tape: For electricians, it's hard to live with it – but it's even harder to live without it. Manual versions require users to force-feed the tape into the wall or conduit as you slowly (and physically) unwind it from the wheel.
Powered fish tape takes wire pulling to a new level by reducing the amount of manual work, decreasing electrician fatigue, and automatically reeling tape back into the drum when the work is done for a tidier jobsite (and we all know that a tidy jobsite is a safe jobsite).
What do you have in your truck right now to pull and route wiring?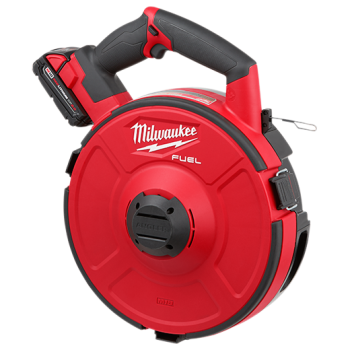 If you open the doors to my truck, you'll find Milwaukee's M18 FUEL™ Angler™ 120' Steel Pulling Fish Tape Kit inside. It isn't just a powered fish tape – it's actually the world's first battery-powered fish tape solution. It bridges the gap between small automatic wire pullers and manual fish tape.
No power on the jobsite yet? No problem. The tool is cordless and powered by an M18 REDLITHIUM battery pack, which delivers lots of runtime. (The fish tape comes with two batteries and a charger.)
Designed to help you work efficiently over time, the M18 FUEL Angler cuts down on the number of repetitive motions you perform during the day and makes it easier to pull wire in challenging situations, such as overhead. In the long run, you'll get much more done – and avoid repetitive stress injuries as you work.
Instead of requiring manual force and strain to work the steel fish tape through a wall or conduit, electricians just need to guide it through – the brushless motor pulls the wire through runs of up to 200 feet in length with up to 360 degrees of total bends using 250 pounds of pulling force (enough to pull four 10 AWG wires in ¾-inch conduit through as many as eight 45-degree bends). It effortlessly and automatically feeds out and retracts in, even over long pulls.
The Auto-Run feature feeds and retrieves lines two to three times faster than a person can. It also helps prevent pulling too fast (nicking wires) or too slow (getting stuck). Because we all know that time is money, this feature puts dollar bills back in your pocket.
Simply put, I keep Milwaukee's M18 FUEL Angler 120' Steel Pulling Fish Tape Kit in my truck because it:
Is a battery-powered solution that doesn't require jobsite power
Keeps jobsites neat and clean
Reduces potential injury and repetitive motions by eliminating manual pulling
Makes it easier to pull wire in challenging environments
Feeds and retrieves lines two to three times faster than a manual fish tape
Does Milwaukee's M18 FUEL Angler 120' Steel Pulling Fish Tape Kit seem like a solution that could save you time, frustration, and potential injury? We can meet you in your office or out on the jobsite to show you how to use it – and how quickly it can help you pull wire. While we're there, we can tell you about customers who use it – and what they think.
Want to learn about other tools I keep in my truck? (And the tools you should keep in your truck, too?) Check out these recent blogs: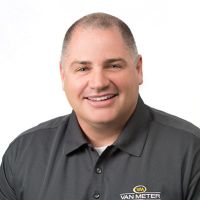 ARTICLE BY:
GARRY O'LEARY
EMPLOYEE-OWNER, CONTRACTOR SERVICES MANAGER
O'Leary joined Van Meter in 2011 and has more than 22 years in the jobsite safety industry.